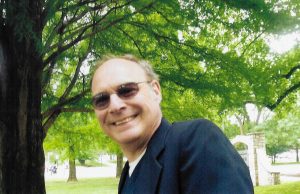 Thomas Earl "Tom" Stirling was born December 1, 1953 in Brookfield, Missouri and departed this life, unexpectedly, on March 11, 2020 at his home in Pleasant Hill, at the age of 66 years, 3 months and 10 days.
He was the son of James Fitzgerald and Cecil Mae (Donahue) Stirling.
Tom grew up and attended school in Carrolton, Missouri, graduating from Carrolton High School in 1972. After graduation he moved to Lexington, Missouri and lived there until 1984 when he moved to Pleasant Hill to make his home.
On August 3, 1997, Tom was united in marriage with Laura F. Robbins in Harrisonville, Missouri. After their marriage Tom and Laura continued to live in Pleasant Hill.
Tom had worked as a tool and die maker for 47 years, 38 of those years he worked for Silgan Dispensing Systems in Grandview, Missouri.
Tom's life was his family, and he prayed for them every day. He was a loving and devoted husband, father and grandfather.
Tom enjoyed playing ping-pong with his co-workers, and chess. He was a sports lover and an avid fan of the Kansas City Chiefs and Royals. He loved to work on projects to improve his home and yard, and liked to explore new places. Tom also enjoyed spending time with his pets.
Tom was preceded in death by his parents, James and Cecil Stirling and one brother, Jim Stirling.
He is survived by his wife, Laura Stirling of the home; three sons, Chad Stirling of Claycomo, Missouri, Darrick Stirling and wife Dana of Grain Valley, Missouri, and Austin Maxwell of Rolla, Missouri; five daughters, Melany Lane and husband Brandon of Republic, Missouri, Laury McCulloch and husband Corey of Columbia, Missouri, Davean Sowards and husband Tim of Carthage, Missouri, Cassie Deering and husband Andy of Lincolnton, North Carolina and Desirae Stirling of Grandview, Missouri; his mother-in-law, Laura Flores of Pleasant Hill, Missouri; one sister, Linda Cathcart and husband Bill of Excelsior Springs, Missouri; brother-in-law, Jose Serrano and wife Sheryl of Blue Springs, Missouri; 18 grandchildren, two nieces, other relatives and many friends.
Cremation has been accorded. Memorial Services for Tom Stirling will be held at a later date. Service information will be published here when it becomes available. Condolences may be sent in care of the family or funeral home.  Online condolences may be left on the funeral home website.