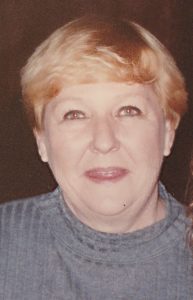 Sharon Jeanne (Stokes) Young of Pleasant Hill, Missouri, was born December 10, 1942 in Kansas City, Missouri, and departed this life on November 16, 2019, surrounded by family at Lee's Summit Medical Center in Lee's Summit, Missouri, at the age of 76.
Sharon was the beloved daughter of Frank and Darlene Stokes of Pleasant Hill, Missouri.
She spent her younger years fishing and exploring her family's farm and was a graduate of Pleasant Hill High School.
Sharon was a clerical employee with Missouri Pacific and then Union Pacific Railroad in Kansas City, Missouri, and Omaha, Nebraska, for almost 40 years.
She was an avid bowler, bingo player, and keno enthusiast as well as a volunteer at the VFW in Bellevue, Nebraska.
After retirement, Sharon spent her time with her grandchildren and dogs, visiting with friends, and mastering the world of Facebook, online bingo and slots games. She was known for her quick wit, feisty disposition, and her love of chihuahuas.
Sharon was preceded in death by her father and mother, Frank and Darlene Stokes, and by her beloved chihuahua, Chunky.
She is survived by her son, Brad Brixey and daughters Michelle Young and Frankye Young-Burton all of Pleasant Hill, Missouri, daughter Dana Foust and son-in-law Shane Foust of Acworth, Georgia; grandsons, Dylan Rada and Noah Burton; granddaughters, Kennedy Burton and Laney Foust; sister, Frances Kay Osborn and husband Allen of Pleasant Hill, Missouri. She's also survived by her best friend Lola Barbarick of somewhere around Kingsville, Missouri; nieces, nephews, other relatives, and many friends.
The family of Sharon Jeanne (Stokes) Young will receive friends 12:00 Noon – 1:00 p.m. Friday, November 22, 2019 at the Wallace Funeral Home in Pleasant Hill, Missouri. Graveside Service and Interment will follow at 1:30 p.m. at the Pleasant Hill Cemetery with Rev. James Stanfield-Myers officiating. Casket Bearers will be Brad Brixey, Ephie Driver, Nate Driver, Gary Hall, Sr., Gary Hall, Jr. and Shane Foust.
In lieu of flowers, the family asks that donations be made to the Pleasant Hill Animal Shelter. Checks should be made out to Pleasant Hill Animal Shelter and may be left at the funeral home or mailed in care of City of Pleasant Hill, 203 Paul Street, Pleasant Hill, Missouri 64080.