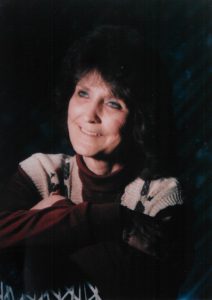 Sandra Lee (Graham) Otis was born June 1, 1943 in Liberty, Missouri and departed this life on September 23, 2019 at Belton Regional Medical Center in Belton, Missouri, surrounded by the love of her family, at the age of 76 years, 3 months and 22 days.
She was the daughter of Arthur Lee Graham, Jr. and Artense (Frisbey) Rachel.
Sandra lived with her grandparents, Arthur Lee Graham, Sr. and Ludie Belle (Wagoner) Graham, during her younger years and attended grade school in Pleasant Hill. She always had fond memories of those years spent with her grandparents. Sandra later attended school in California and then in Grandview, Missouri. Sandra lived several places throughout her lifetime, but returned to Pleasant Hill in 2014 to make her home.
Sandra worked as a district manager for Total Oil Company for 18 years. She then accepted a position in the same capacity with Maher Oil Company, where she worked for 13½ years.
Sandra liked to bowl, and in her younger years had bowled on several leagues. She also liked to go to the boats, play bingo, but her favorite entertainment was having her immediate and extended family together for "family card games".
Sandra was a devoted, loving and supportive daughter, mother, grandmother, great grandmother and sister. Her family was the most important part of her life.
Sandra was preceded in death by her parents, Arthur Lee Graham, Jr. and Artense (Frisbey) Rachel; one daughter, Brandy Otis and eight grandchildren.
She is survived by three sons, Donald McCauley and wife Becky of Liberty, Missouri, Farron Otis and wife Theresa of Greenwood, Missouri and Flinten Otis of Rolla, Missouri; one daughter, Candy Koehler and husband Kagan of Pleasant Hill, Missouri; three brothers, Arthur Graham, III  and Sparkie Graham both of Grandview, Missouri, and Bill Graham of Lee's Summit, Missouri; twelve grandchildren, numerous great grandchildren, other relatives and many friends.
Graveside services for Sandra Lee (Graham) Otis will be held at 1:00 p.m. Thursday, September 26, 2019 at the Pleasant Hill Cemetery, with Rev. Tim Casteel officiating. Casket Bearers are Don McCauley, Farron Otis, Arthur Lee Graham IV, Kagan Koehler, Sparkie Graham and Bill Graham.