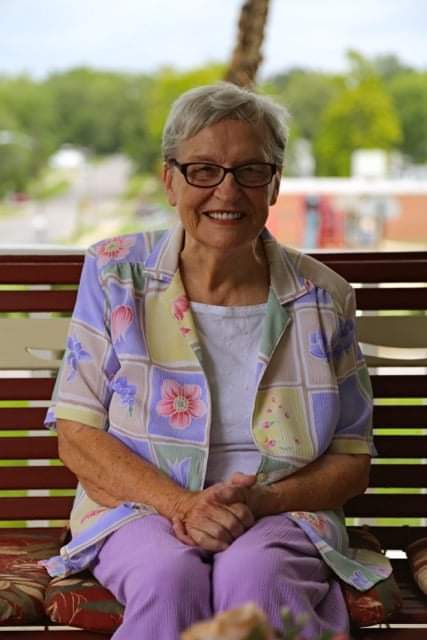 Ruby Lenore (Mann)McKinney, loving Mother and Grandmother, began her spirit journey on May 17, 2021. She passed peacefully and naturally among friends, family and as a resident of Wilshire at Lakewood in Lees Summit, Missouri.
The 87 years on Mother Earth gifted Ruby with a long life spent in a variety of activities and places. Born on October 5,1933 in Hilda, Missouri, she grew up in a rural area, was a graduate of Grain Valley High School, a lifelong member of Community of Christ Church and resided in the states of Washington, Kansas and Texas before returning to live her elderly years in Missouri.
Among Ruby's numerous interests and talents were the love of drawing and painting flowers and birds, reading historical world literature and being a collector of all things which she found to be of beauty, such as sea shells, unusual rocks and colorful glass bottles. She also enjoyed growing houseplants, herbs and creating flower gardens. She never missed the opportunity to share one of her findings, or talk about an adventure. One of her time tested methods of placing large decorative rocks around a newly planted flower to, as she would say, "keep those darn rabbits away", was always a success.
Ruby's love of Nature was lifelong, but at the heart of everything she did was her family. Her generosity of spirit was felt by all. One of the ways she enjoyed demonstrating her long distance care was through phone calls, letters and greeting cards. Always consistent, Ruby made the moments to never miss wishing a happy birthday, or a holiday greeting and writing, "I hope this finds you doing well", to her loved ones.
Ruby had the good fortune to grow up with and live among a large extended family with multi-cultural heritage. She learned the value of diversity living on the Kickapoo Reservation with her Husband Lowell's family. She was also proud of her ancestral connection to Matoaka (Pocahontas), and as a maternal 9th great-granddaughter, she often spoke softly and respectfully about her Native American lineage.
Ruby will be greatly missed for so many reasons, but the memories of her spontaneous humor and infectious laughter, plus her sharing of her oral knowledge of family history will continue to be a strength for her descendants. She leaves this world a better place through her unconditional love of her family.
Ruby is preceded in her passing by her parents, Carroll and Nora (Bolling) Mann and her husband, Lowell McKinney.
She is survived by her three children and their spouses, Roger (Debbie) McKinney, Barb (Greg) Elston and Chris (Kim) McKinney, her seven grand children, Jarom, Jordan, Matt, Travis, Blake, Whitney and Sydney, her eight great-grandchildren, Aurelia, Ryu, Hunter, Dylan, Corbin, Quinn, Victor, and Wren, her four siblings, Joe (Goldie) Mann, Garnett Sahlberg, Donna (Wayne) Church and Lonnie Mann, loving in-laws, nieces, nephews and a host of long-time friends.
Cremation has been accorded. A private family remembrance will be held at a future date.