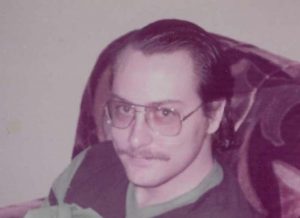 Rickey Lee Kuhns was born December 13, 1960 in Ancon, Panama Canal Zone and departed this life on July 22, 2018 at Belton Regional Medical Center in Belton, Missouri at the age of 57 years, 7 months and 9 days.
He was the son of MSgt. James Harold Kuhns and Angelene Mae (Carson) Kuhns.
Born into a United States Air Force family, Rickey lived in several places during his younger years including the Panama Canal Zone, North Dakota, Iowa (during the time his father served in Viet Nam) and then Missouri. Rickey attended school and graduated from Hickman Mills High School in 1979. Immediately after graduating, Rickey went to work for Burns and McDonald as a drafter. He worked for Burns and McDonald for several years before taking a position as a computer drafter with SEGA Engineering Consultants, where he remained until his retirement.
In his younger years, Rickey raised rabbits and birds. As he grew older his hobbies turned to coin collecting and photography. The most important thing in Rickey's adult life was raising his children and later, spending time with his grandchildren. He loved teaching and playing video games with his children and grandchildren.
Rickey was preceded in death by his parents, James and Angelene Kuhns.
He is survived by one son, Joshua Kuhns and Cassie of Raymore, Missouri; one daughter, Crystal Kuhns of Peculiar, Missouri; two brothers, Mickey Kuhns and wife Carla of Imperial, California and Timothy Kuhns and wife Doris of Independence, Missouri; five grandchildren, other relatives and many friends.
The family of Rickey Lee Kuhns will host a Celebration of Life Memorial Service, 4:00 p.m., Saturday August 4, 2018  at Saved By Grace Fellowship, 519 S. Prairie Lane, Raymore, Missouri 64083, with Pastor Kevin Coffman and Pastor Shauna Coffman officiating.
Cremation arrangements entrusted to Wallace Funeral Home, Pleasant Hill, MO.