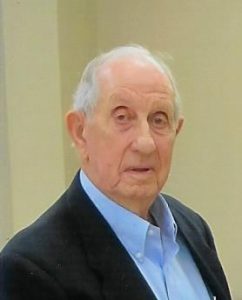 Richard W. Scheer, 94, died at his farm near Pleasant Hill, MO on September 6, 2015.
He was born in Lee's Summit, MO, on February 24, 1921 to Julius and Rena Scheer, one of five children.
After attending Lee's Summit High School, he returned to his family farm until called to serve in World War II. He served in the 409th Infantry Regiment of the 103rd Infantry Division of the Army. His unit served as an anti-tank company, seeing duty in the European Theatre during the last year of the war. Upon his return from the war, he married Geraldine "Jerry" Knorpp in 1946 and they had four children.
Richard was a lifelong farmer and cattleman. He was a self-taught carpenter and mason, building his own home from stone he salvaged from an old livery stable. He was a co-owner of Empire Angus, a purebred Angus farm that exhibited cattle at major livestock shows across the country. The cattle claimed championships at the All American Angus Breeders Futurity in Louisville, KY, the National Western in Denver, CO, the American Royal in Kansas City, as well as others national shows.
He farmed independently until he was 89 years of age. His specialty was soybeans. In 2011, he received the Jackson County Conservation Farmer Award for terracing and other conservation projects on his farm.
He was a member of Our Lady of the Presentation Catholic Church. His grandparents were one of the founding members of the parish when established in 1885.
Richard was hard working, dedicated to his family and faith, and had a weakness for coconut cream pie.
Richard was preceded in death by his wife, Jerry, in 1995, as well as his son, Pat, in 1995.
He is survived by a son, Bernie Scheer, of Pleasant Hill; a daughter, Maria Bramwell (Frank) of Kansas City, MO, a daughter, Anne Scheer, of Overland Park, KS; and two granddaughters, Kristine Bramwell of Kansas City MO, and Amanda Eller of Oklahoma.
Visitation will be held at the Wallace Funeral Home, 422 N. Lake, Pleasant Hill, MO on Friday, September 11, 2015, from 6:00 – 8:00 p.m. The rosary will be prayed at 5:30 p.m. Friday, September 11, 2015 prior to visitation.
Mass of Christian Burial will be held at Our Lady of the Presentation Catholic Church, 130 NW Murray Road, Lee's Summit, MO on Saturday, September 12, 2015 at 11:00 a.m.
Burial will be at 2:00 p.m. at the Pleasant Hill Cemetery.
The family suggests contributions to Kansas City Hospice and Palliative Care, 1500 Meadow Lake Parkway, Suite 200, Kansas City, MO. 64114