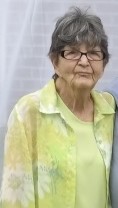 Nelda "Sue" (Saunsaucie) Wilt was born September 17, 1940 in Urich, Missouri and departed
this life on August 8, 2022 at Cass Regional Medical Center in Harrisonville, Missouri, at the
age of 81 years, 10 months and 22 days.
She was the daughter of James and Callie Roberta Saunsaucie.
Sue attended several country schools before finishing high school in Pleasant Hill, Missouri,
class of 1958.
On February 8, 1964, Sue was united in marriage with Lawrence "Larry" Wilt and to this
union three children were born, Mary Beth, Larry Edward and Susan Jo-Lyn. Sue and Larry
lived several places during their married lives, but for over twenty years they had made their
home in Archie, Missouri.
Sue enjoyed attending activities all three of her children participated in including Cass
County 4-H, little league sports, girl scouts but, she was especially proud of their music and
acting abilities.
Sue was a loving and devoted wife, mother, grandmother, great-grandmother and a true
and loyal friend to many. She loved her church family at the Fellowship Church- Archie,
Missouri, where she especially enjoyed working along-side her "kitchen crew". Sue was also
a member of the V.F.W. Auxiliary.
Sue was preceded in death by her parents, James and Roberta Saunsaucie; two brothers,
James Lee Saunsaucie and Phillip Saunsaucie and her daughter, Mary Beth Carlill.
She is survived by her husband of 58 years, Larry Wilt of the home; one son, Larry Edward
Wilt and wife Jodie of Cheyenne, Wyoming; one daughter, Susan Jo-Lyn Wilt of Spokane,
Washington; three grandchildren, Vyktoria Jenkins of Harrisonville, Missouri, Jacob Harris of
Overland Park, Kansas and James Wilson of Ft. Lauderdale, Florida; three great-
grandchildren, Cayden, Rylee and Charlee Jenkins; other relatives and many friends.
The family of Sue Wilt will receive friends from 12:00 – 1:00 p.m. Tuesday, August 16, 2022
at the Fellowship Church – Archie Campus, 302 S. Missouri Street, Archie, Missouri 64725.
Funeral Service will immediately follow at 1:00 p.m. with Rev. J. P. Williams officiating.
Casket Bearers will be Larry Edward Wilt, Jacob Harris, Ben Hill, Kenny Cutshall, Dominick
Bidondo and Jordan Reed. Interment will follow at 3:00 p.m. at the Pleasant Hill Cemetery,
Pleasant Hill, Missouri.
Arrangements: Wallace Funeral Home, Pleasant Hill, Missouri