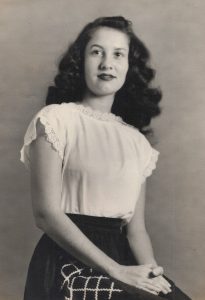 Marvina Pearl (Shoup) Flora was born October 13, 1931 in Gunn City, Missouri and departed this life, surrounded by the love of her family, on February 9, 2021 at St. Luke's Hospice House in Kansas City, Missouri.
She was the daughter of Marvin H.  and Goldie May (Graham) Shoup.
Marvina spent her younger years in the Gunn City area where she attended grade school and became a member of the Gunn City United Methodist Church. After grade school, Marvina attended high school in Harrisonville, Missouri where she was a 1949 graduate.
On December 7, 1949 Marvina was united in marriage with Lloyd Wesley Flora in Bentonville, Arkansas. After their marriage they lived in Pleasant Hill, Missouri where Marvina obtained a position in the Colonial Poultry Farm office. Later they moved to a farm in the Gunn City/East Lynne area where their three children, Susan Marie, John Lee and Patricia Dianne were born. In 1966 the Flora family moved back to Pleasant Hill to make their home. Mr. Flora passed away on August 17, 1970.
In the spring of 1972, Marvina was united in marriage with Jon Sims, they later divorced.
Marvina worked as a shoe salesperson for Davison Shoes in Pleasant Hill for several years, then she took a position with Robinson Shoes at the Blue Ridge Mall in Independence, Missouri where she worked for six years.  Later, Marvina went to work as a salesperson for the Family Center in Harrisonville, Missouri.
Marvina was a very gifted musician, teaching herself to play the mandolin and the piano by ear. While still a teenager, she played in a band with her father, Marvin and sister, Maxine. Marvina was a talented floral arranger, creating breathtaking flower arrangements, and an accomplished seamstress.
Marvina was introduced to crappie fishing by her dear friend, Bill Hammons. Marvina and Bill loved to crappie fish and spent wonderful times together at their place at Truman Lake. They fished in tournaments and even won a few!
Marvina enjoyed working in her yard and with her beautiful flowers. Chances are, on any given day in the spring and summer, if you drove by her house you would see her working in her yard. Marvina loved nature and enjoyed watching and interacting with the wildlife that surrounded her home. She was also known as an avid KU basketball fan.
Marvina lived life to the fullest and enjoyed each and every day. Her motto was "staying busy is the key to staying young!"
In addition to her husband, Lloyd Wesley Flora, Marvina was preceded in death by her parents, Marvin and Goldie Shoup and sisters, infant Rose Shoup, Ella Maxine Hedgpeth and Wilma Dean McGahan.
She is survived by her devoted friend and loving partner of 43 years, Bill Hammons of Pleasant Hill, Missouri; her three children, Susan Ballard and husband Virgil, John Flora and wife Judy all of Holden, Missouri, and Patsy Reinsch of Hilton Head Island, South Carolina; six grandchildren, Shellie Peck and husband Mike of Lee's Summit, Missouri, Tami Thieman of Holden, Missouri, Jody Davis and husband Adam of Charleston, South Carolina, Tracy Gilcrest and husband Jack of Holden, Missouri, Monica Capizzi and husband Joe of Hilton Head Island, South Carolina, and Chris Ballard and wife Carrie of Cumming, Georgia; ten Great-Grandchildren; special cousin, Kenneth Graham of Terre Haute, Indiana, other relatives and many friends.
Per Marvina's wishes, cremation has been accorded.
A Celebration of Life Service in Memory of Marvina Pearl (Shoup) Flora will be held at 1:oo p.m. Saturday, May 22, 2021 at the Wallace Funeral Home in Pleasant Hill, Missouri with Rev.Clifford Woolery officiating. Inurnment will be private.
Memorial contributions "In Memory of Marvina Flora" may be made to Support/Missouri Wildlife Rescue Center/United States at mowildlife.org