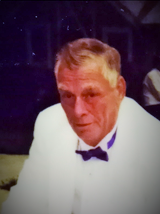 Lawrence "Leo" Ponder was born January 31, 1936 in Iberia, Missouri and departed this life on June 26, 2021 at Pleasant Hill Health and Rehabilitation Center in Pleasant Hill, Missouri at the age of 85 years, 4 months and 26 days.
He was the son of Leve Virgil and Lelia Marie (Connell) Ponder.
The Ponder family moved to Pleasant Hill, Missouri in 1942 when Leo was a small child. He spent the entire rest of his life in Pleasant Hill.
Leo worked for Land Roofing Company for many years. Later in life he worked at the Pleasant Hill Veneer Plant until his retirement.
On July 4, 1991, Leo was united in marriage, to the love of his life, Norma Jean Bendt in Pleasant Hill and they made their home here. Mrs. Ponder preceded Leo in death on February 13, 2008.
Leo enjoyed watching television, especially old westerns. He also enjoyed watching the wildlife that surrounded his home, and a McDonald's cheeseburger now and then.
In addition to his wife, Norma Jean Ponder, Leo was preceded in death by his parents, Leve and Lelia Ponder; three brothers, Virgil J. Ponder, Kenneth Ponder and Carl Ponder; one sister, Flora Cusick; brother-in-law, Don Cusick and sister-in-law, Roberta Ponder.
He is survived by his daughter, Lori Brock of Cleveland, Missouri; one grandson, Jon Kirby and wife Kimberly of Cleveland, Missouri; one granddaughter, Jessica Kirby of Harrisonville, Missouri; sister-in-law, Dorothy Ponder of Pleasant Hill, Missouri; three great-grandchildren, Ethan, Elijah and Grace Kirby, and many nieces, nephews, other relatives and friends.
Cremation has been accorded. The family of Lawrence "Leo" Ponder will host a Celebration of Life at a later date.
Cremation entrusted to Wallace Funeral Home, Pleasant Hill, Missouri.