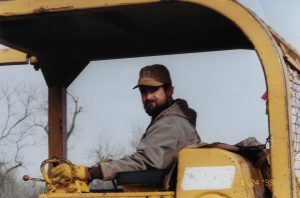 Kim Leon Riggs was born December 11, 1959 in Harrisonville, Missouri and departed this life on November 1, 2019 at Cass Regional Medical Center in Harrisonville, Missouri, at the age of 59 years, 10 months and 21 days.
He was the son of Rex Leon and Jeannette L. (Sartin) Riggs.
Kim spent most of his life in the Pleasant Hill area, graduating from Pleasant Hill High School in 1978. After graduation, he worked as a heavy equipment operator for Riggs Excavating Company.
Kim loved the outdoors and the hobby he enjoyed most was fishing. He also was completely devoted to his dog and cats.
Kim was preceded in death by his mother, Jeannette L. (Sartin) Riggs on August 11, 2015 and his sister, Karla Lynn Riggs on April 23, 1990.
He is survived by four sons, Keith Leon Riggs of Garden City, Missouri, Kyle Dean Riggs of Lamar, Missouri, Richard "Rick" Hood of Independence, Missouri, and Jake Riggs of Holden, Missouri; his father, Rex Leon Riggs and wife Starr of Harrisonville, Missouri; his wife, Christina Riggs of Holden, Missouri; two brothers, Kevin Riggs and wife Teri of Pleasant Hill, Missouri, and Keith Ray Riggs and wife Amy of Harrisonville, Missouri; three grandchildren, other relatives and many friends.
Funeral Service for Kim L. Riggs will be held at 1:00 p.m. on Thursday, November 7, 2019 at the Wallace Funeral Home in Pleasant Hill, with Pastor Steve Fleshman, officiating. Casket Bearers will be Kevin Riggs, Keith Ray Riggs, Keith Leon Riggs, Kyle Riggs, Richard "Rick" Hood and Jake Riggs. Honorary Bearer will be Frank Osbourne. Interment will be in the Orient Cemetery, Harrisonville, Missouri. The family will receive friends from 11:00 a.m. until service time at 1:00 p.m. on November 7, 2019, at the funeral home.