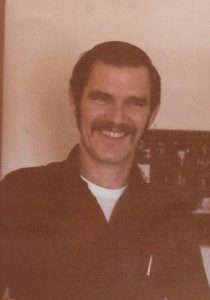 James Sidney "Jim" Potter was born November 8, 1937 in LaTour, Missouri and departed this life on June 26, 2015 at Cass Regional Medical Center in Harrisonville, Missouri at the age of 77 years, 7 months and 18 days. He was the son of James Edgar Potter and Ruth Elizabeth (Phillips) Moreland.
Jim spent his younger years in Pleasant Hill and graduated from Pleasant Hill High School in 1956. Immediately following graduation, Jim enlisted in the United States Air Force and was stationed in several places throughout his military career, one of which was Germany, where he met Rosemarie Martha Leni Splitter. On December 29, 1959, Jim and Rosemarie were united in marriage in Kassel, Germany and to this union two children were born. The marriage later ended in divorce.
Jim served in the United States Air Force until his honorable discharge in 1967. In 1979, he joined the Missouri National Guard and served his country until 1997 when he retired.
On January 6, 1978, Jim was united in marriage with Patsy Gattenby in Lee's Summit, Missouri and they made their home in Kansas City, Missouri. Patsy Potter preceded Jim in death on March 3, 2005. After Patsy's death, Jim moved back to Pleasant Hill to make his home.
Jim was a truck driver for several trucking companies in the Kansas City area. He was a member of V. F. W. Post 3976 and American Legion Post 0021, both of Independence, Missouri.
In addition to his wife, Patsy, Jim was preceded in death by his father, James Edgar Potter; his mother, Ruth Elizabeth Moreland and one step-daughter, Vallee Burris.
Jim is survived by one son, Michael J. Potter and wife Teri; one daughter, Bianca Betts and husband David all of Pleasant Hill; three sisters, Joyce Potter-Reese of Pleasant Hill, Charlene Vaughan of Fernwood, Idaho, and Karen Felix of Ala Mogrado, Mexico; four grandchildren, David M. Betts, Brandon J. Betts and Kayla Potter all of Pleasant Hill, and Scott Burris of Wichita, Kansas; 11 great grandchildren, other relatives and many, many friends.
Cremation has been accorded and the family will receive friends at a Memorial Visitation which will be held from 2:00 – 4:00 p.m. on Sunday, July 19, 2015 at the Wallace Funeral Home in Pleasant Hill.
A Memorial Service and Inurnment will be held at 1:00 p.m. Monday, July 20, 2015 at the Missouri State Veterans Cemetery in Higginsville, Missouri with Military Honors provided by the Army National Guard.