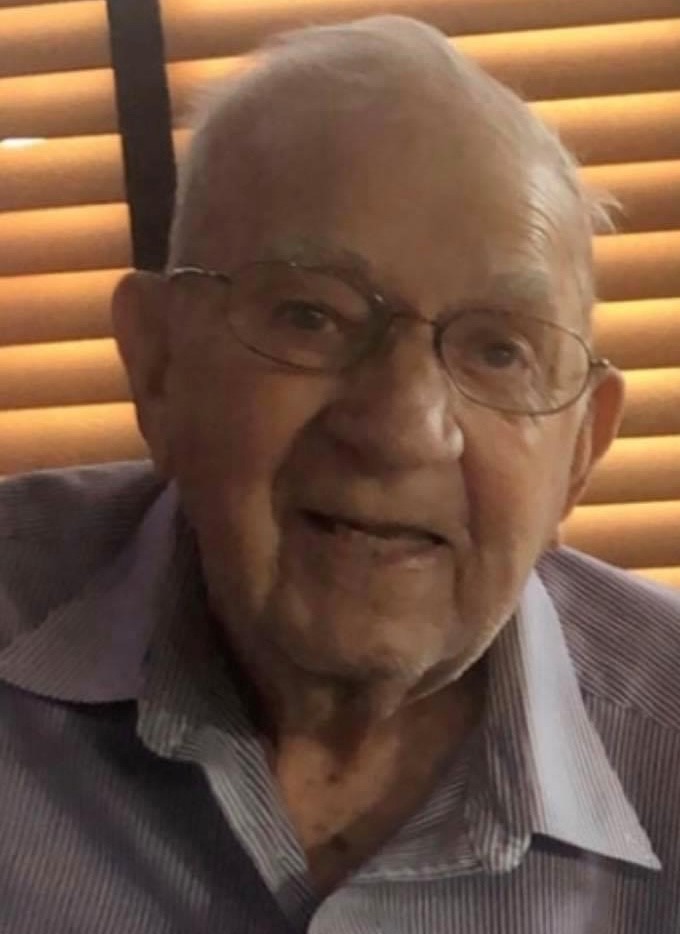 Glen Olen Dawson, Sr. Was born January 16, 1926 in Afton, Oklahoma and departed this life on April 28, 2021 at his home in Pleasant Hill, Missouri at the age of 95 years, 3 months and 12 days.
He was the son of Ray Dewitt and Lulu (Edwards) Dawson.
Glen spent his younger years in the Afton, Oklahoma area where he attended school. On July 27, 1943, Glen joined the United States Navy and proudly served his country during World War II in the Pacific Theater. After his honorable discharge from the Navy on March 19, 1946, Glen began working pipeline construction and traveled to many parts of the United States. One job found him working in St. Louis, Missouri where he met a young woman named Barbara Ann Capps and they began dating. On January 22, 1948, Glen and Barbara were united in marriage in Fairland, Oklahoma. After their marriage, Glen and Barbara established their home in the Afton, Oklahoma area. Glen continued to work pipeline construction and, in 1956, because of his job, they relocated to Liberty, Missouri where they lived until 1966 when they moved to Pleasant Hill, Missouri and built their forever home. In 1973, Glen founded the Dawson Construction Company and received a contract from Phillips Petroleum Company in Bartlesville, Oklahoma to build Compressor Stations all over Northeastern Oklahoma. Glen and Barbara temporarily moved to Oklahoma until 1980, when the United States Government deregulated natural gas ending oil field investments. Glen and Barbara returned to their home in Pleasant Hill, Missouri and in July of 1980 Glen retired.
Glen was a member of V.F.W. Post #3118 of Pleasant Hill, Missouri and had been a member of the Masonic Lodge in Liberty, Missouri. He also attended the Pleasant Hill United Methodist Church.
Glen was preceded in death by his wife, Barbara Ann (Capps) Dawson; his parents, Ray and Lulu Dawson; three brothers, Francis Marion Dawson, Ray Dale Dawson and Lyndon Dawson and one sister, Margaret Whittington.
He is survived by two sons, Glen "Dusty" Dawson, Jr. and wife Linda of Pleasant Hill, Missouri, and Thomas Higdon and wife Gayle of Newtonia, Missouri; four daughters, Barbara Ann Phebus and husband Raymond of Grove, Oklahoma, Linda Miller and husband Jan Henry of Pleasant Hill, Missouri, Dianna Heminger and husband Wayne of Gardner, Kansas, and Glenda Breckenridge and husband Gary of Olathe, Kansas; twelve grandchildren, 18 great-grandchildren, six great great-grandchildren, other relatives and many friends.
The family of Glen Olen Dawson, Sr. will receive friends from 11:00 a.m. until 12:15 p.m. Saturday, May 8, 2021 at the Wallace Funeral Home in Pleasant Hill. V.F.W. Post #3118 of Pleasant Hill, Missouri will present the Final Salute at 12:15 at the Funeral Home. Graveside Service will be held at 1:00 p.m. at the Pleasant Hill Cemetery with Rev. Kent Deubner officiating. Casket Bearers will be Gary Lee Ellis, Brian Franklin, Joe D. Miller, Preston Bigler, Dawson Heeney, Brandon Breckenridge, Braxton Gonzalez, Kody Franklin and Gage Franklin. Full Military Honors will be conducted by the United States Navy and V.F.W. Post #3118 Honor Guard of Pleasant Hill, Missouri.
The family suggests contributions to Crossroads Hospice and Palliative Care "In Memory of Glen Olen Dawson, Sr. Donations may be mailed to: 14310 E. 42nd Street South, Unit 600, Independence, MO 64055 or may be left as the funeral home.