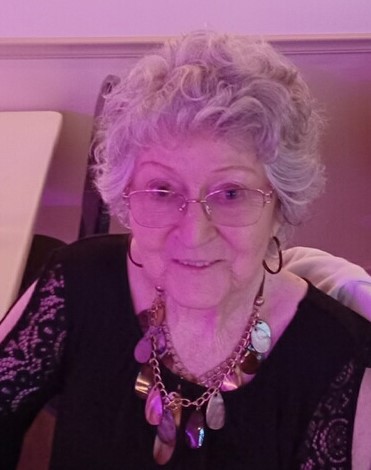 EVELYN DARLENE (SHEWMAKER) BUSH BASTON
Evelyn "Darlene" (Shewmaker) Bush Baston, 85, of Pleasant Hill, MO was born July 23, 1937 in Greenwood, MO. The daughter of Hubert Riley and Molly Lee (Rayl) Shewmaker. She departed this life Sunday, May 28, 2023 at Kansas City Hospice & Palliative Care, Kansas City, Mo., surrounded with love and family.
Darlene attended a country school south of Pleasant Hill where she went to the eighth grade. She worked on the farm with her six siblings and sang at a country show at the Ivanhoe Temple near the Plaza.
On May 17, 1954 Darlene was united in marriage to Harold Bush in Independence, MO. They then moved to Pleasant Hill where she worked at the Garment Factory in Pleasant Hill. Later, she was employed by Rupert Mfg in Blue Springs, MO for several years. The family traveled to California, Washington and Colorado for her husband's iron work.
For many years Darlene enjoyed dancing and singing in a band with her husband and son. Besides singing, she enjoyed cooking, going on cruises, taking care of stray animals and kids…whoever and whatever her son would bring home.
Darlene was a member of Pleasant Grove Primitive Baptist Church in Independence, MO.
Darlene was preceded in death by her parents, Hubert and Molly; her husband, Harold on June 9, 1986; brother, Donald Shewmaker and half-sister, Wilma Owens.
She is survived by one son, Mike Bush and wife Marilyn of Pleasant Hill, Missouri; three brothers, Joe Shewmaker of Overland Park, Kansas, Richard Shewmaker and wife Karon, Sam Shewmaker and wife Karon, and two sisters, Betty Lotspeich and Carolyn (Suzy) Gregg all of Pleasant Hill Missouri; one grandson, Dugan Murray and wife Lori; one granddaughter, Dakota Amos; nine great grandchildren, Kristen and husband John, Kyle, Kimi and husband Chris, Kelly, Kendall, Brooke, Brenton, Abigail, Lilly; five great great-grandchildren, many cousins, nieces, nephews, other relatives and many friends.
She was loved by all who knew her or just met her, and will be greatly missed.
The family will receive friends from 10:00 A.M. – 12:00 Noon on Saturday, June 3, 2023 at the Wallace Funeral Home, Pleasant Hill, Missouri. Funeral Service will immediately follow at 12:00 Noon with Elder Darrell Shewmaker officiating. Casket Bearers will be Mark Shewmaker, Dennis Gregg, Jeff Shewmaker, Bubby Bush, Steven Bush and Rusty Hunt. Honorary Bearers are Bobby Hunt and Josh West. Interment will be in the Pleasant Hill Cemetery.
Contributions In Memory of Evelyn Darlene (Shewmaker) Bush Baston are suggested to Help Humane, 17122 Bel Ray Place, Belton, Missouri 64012 or Kansas City Hospice and Palliative Care, 9001 State Line Road, Suite 300, Kansas City, Missouri 64114-9918. Contributions may be mailed directly or left at the funeral home.