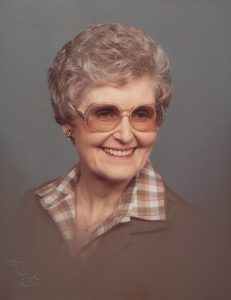 Dorothy L. (Parks) Elkins was born November 20, 1927 in Kansas City, Missouri and departed this life on September 18, 2019 at Adrian Manor in Adrian, Missouri, surrounded by the love of her family, at the age of 91 years, 9 months and 29 days.
She was the daughter of Clifford Willis and Mary Grace (Peterie) Parks.
Dorothy spent her younger years in Belton, Missouri and graduated Valedictorian from Belton High School in 1945. After graduation, she attended Central Missouri State College (now known as University of Central Missouri), in Warrensburg , Missouri.
Dorothy was united in marriage to Billy Elkins in February of 1947 and to this union one daughter, Judy, was born. They later divorced.
Dorothy was employed several places throughout her lifetime, first she worked for the Grace Company in Belton, Missouri, then as a secretary for the Lee's Summit Christian Church. Later, Dorothy worked for Farmers Trust Company, and her final employment was as secretary for the Martin Luther Lutheran Church in Lee's Summit, Missouri.
Dorothy was an avid seamstress, she also loved camping, playing cards and dancing. She was a kind, giving and loving mother and grandmother. May she rest in peace in the arms of her parents and Our Heavenly Father.
Dorothy was a member of the Lee's Summit Christian Church, Lee's Summit, Missouri and a former member of the Lone Jack, Missouri Lioness Club.
Dorothy was preceded in death by her parents, Clifford and Mary Grace Parks, and one great granddaughter, Nicole Bradshaw.
She is survived by her daughter, Judy Sprouse and Gene Sloan of Adrian, Missouri; one granddaughter, Melissa Cotter of Broken Arrow, Oklahoma; one grandson, Clifford Sprouse and wife Kristin of Lee's Summit, Missouri; four great grandchildren, Brandon Bradshaw of Glenpool, Oklahoma, Derek Bradshaw of Broken Arrow, Oklahoma, Weston and Sapphire Sprouse.
Graveside Service and Inurnment for Dorothy L. Elkins will be held at 11:00 a.m. Saturday, October 5, 2019 at the Lee's Summit Historical Cemetery, 806 SE 3rd Street, Lee's Summit, Missouri 64063, with Dr. Alan Gatewood officiating. Granddaughter, Melissa Cotter, will deliver "Personal Memories".
In Loving Memory of Dorothy L. Elkins, contributions may be made to the Wounded Warriors Project or St. Jude Children's Research Hospital.