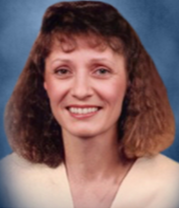 Cynthia (Cindy) Jean Bittiker, age 64 of Raymore, Missouri, and formerly of Carrollton and Pleasant Hill, Missouri, passed away peacefully into the arms of her Savior on Monday, May 3, 2021, surrounded by the love of her family at St. Luke's East Hospital, Lee's Summit, Missouri.
Cindy was the daughter of Perry Lee and Bonnie (Harman) Cain, born on January 16, 1957, in Kansas City, Missouri. She graduated with the Carrollton High School Class of 1975. Cindy had been a longtime manager for the bus service who provided bus transportation for the Pleasant Hill School District; and was later employed by KC Driveaway in Belton, Missouri.
Cindy's life was centered on her family; and she "lived" for her time with Jim, her children, and grandchildren. You could mention any of their names and she would smile from ear to ear. From the moment her grandchildren were born, she made sure she was involved with their lives and enjoyed going to visit them on a very regular basis. Cindy not only had a beautiful smile but was genuine in all of her actions, and would help anyone who needed help. She had a way of making each of her family and friends feel very special and much loved. Cindy and Jim were avid followers of the Krazy Kats Band; they followed them literally everywhere and loved dancing to their music. She had an extensive rock collection and spoon collection.
Cindy leaves her family to mourn her loss: her beloved husband, Jim of the home; her beloved children, Chad Stirling of Grain Valley, Missouri and fiancé', Nori Caballero of Lima, Peru, Darrick Stirling and wife Dana of Grain Valley, Missouri, and Melany Lane and husband Brandon of Republic, Missouri; and the lights of her life, her seventeen precious grandchildren; one sister, Sharon Brotherton; one brother, Kevin Cain, both of Carrollton, Missouri; numerous cousins; many nieces and nephews; and great-nieces and great-nephews.
She was preceded in death by her parents, Perry and Bonnie Cain; and her brother, Ronnie Cain.
The family will receive friends from 5:00 p.m. until 7:00 p.m., on Monday, May 10, 2021, at Wallace Funeral Home, 422 North Lake Street, Pleasant Hill, Missouri.
Please join the family as they receive friends from 11:30 a.m. until 12:30 p.m.,  on Tuesday, May 11, 2021, at Bittiker Funeral Home, 1201 North 65 Highway, Carrollton, Missouri.
Graveside Services will follow at 1:30 p.m., at Evergreen Cemetery, DeWitt, Missouri, officiated by Pastor Phillip Fisher.
For those who would like to make a memorial contribution, the family respectfully suggests they be made to Family Choice in care of Jim Bittiker. They may be left at or mailed to Bittiker Funeral Home, P.O. Box 223, Carrollton, Missouri, 64633.
Arrangements: Bittiker Funeral Home, Carrollton, Missouri