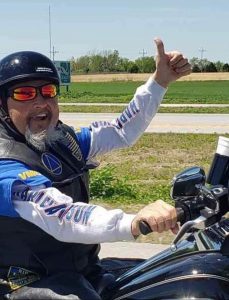 Arthur Lee "Little Buck" Graham, III was born July 10, 1954 in Kansas City, Missouri and departed this life on November 3, 2019 at Research Medical Center, surrounded by the love of his family, at the age of 65 years, 3 months and 23 days.
He was the son of Arthur Lee Graham, Jr. and Eva Darlene (Sparks) Graham.
Little Buck spent most of his life in Grandview, Missouri where he attended Grandview High School. He went on to work for General Motors for 30 years and retired as Team Leader in Production. Little Buck was also a proud member of UAW Local #31. In addition, he was Owner, President and CEO of his own company, Graham Salvage.
On December 31, 1988 Little Buck was united in marriage with Rosemary Alice Taylor in Independence, Missouri and to this union one son, Arthur Lee Graham, IV was born.
The most important thing in Little Buck's life was his family. He was a loving and devoted son, father, brother, papa, uncle, and cousin. He was fiercely protective of those he loved and always available if any of them needed him.
Little Buck enjoyed inviting his family and friends to his home at Lake of the Ozarks, Missouri where he would entertain them with fishing expeditions, and boating experiences.
Little Buck was a member of St. Matthew Presbyterian Church in Grandview, Missouri, and a proud member of Visions Motorcycle Club.
He was preceded in death by his father, Arthur Lee Graham, Jr. and two sisters, Ronda Darlene Phillips and Sandy Otis.
Little Buck is survived by four sons, Christian Lee Graham and wife Roni of Adrian, Missouri, Arthur Lee Graham, IV and wife Kelsey of Grandview, Missouri, Jeff Westbrook and wife Stephanie, and James Westbrook all of Olathe, Kansas; his mother Darlene Sparks of Grandview, Missouri; two brothers, Othel L. "Sparky" Graham of Grandview, Missouri and William Joseph Graham and wife Felicia of Lee's Summit, Missouri; one sister, Bonnie Ragsdale of North Kansas City, Missouri; twelve grandchildren, Christian Lee Graham, Jr., Jesse Wayne Graham, Arthur L. Graham, V, Owen Graham, Raegan Graham, Jayden Martinez, Aubriana Westbrook, Olivia Baldwin, Jaxton Westbrook, Kane Westbrook, Vivian Westbrook and Taylor Westbrook; other relatives and many, many friends.
Funeral Service for Arthur Lee "Little Buck" Graham, III. will be held at 12:00 Noon Saturday, November 9, 2019 at the Wallace Funeral Home in Pleasant Hill, Missouri with Pastor Alan Kinder, officiating. The family will receive friends from 10:00 a.m. until service time at 12:00 Noon on Saturday, November 9, 2019 at the funeral home.