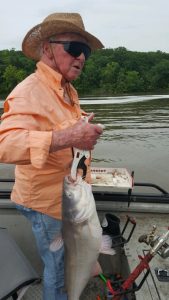 William Matthew "Nick" Nicholson was born to Matthew and Margaret (Marietta) Nicholson on June 14, 1932 in coal country near Pittsburg, Kansas. He was raised there with one sister, Betty, and one brother George. As a youngster, he spent a great deal of time hunting and fishing in and around the mine pits close to their home — the beginning of his lifetime interest in all things related to nature and the outdoors.
He graduated high school in Pittsburg where he met his future wife, Margaret Marlier. He started college at Pittsburg State but found he was more interested in hunting, fishing, or playing pool than studying. So, with three of his friends, he joined the Navy.
 He served on the flight deck of a carrier, the USS Hornet. During his last year of service, he managed to be assigned to a ship that took him around the world, an experience he never forgot. He told many stories about being in foreign countries, always summarizing them as "learning experiences." One of his favorite stories was about the Crossing the Line ceremony when they crossed the equator. Following a long-standing tradition, through various harrowing and/or embarrassing initiation rites, new sailors (pollywogs) were inducted into the "Solemn Mysteries of the Ancient Order of the Deep." This meant that King Neptune had accepted them as one of his trusty Shellbacks. Nick was proud of his military service and never failed to thank anyone he saw wearing a military cap, engaging them in conversation. He was a practicing patriot, always current with local and national candidates and office holders. He often called or wrote them and kept their addresses and phone numbers in his directory. He was a lifetime member of the VFW and an active member of the Fraternal Order of Eagles, Aerie #4146, supporting their community projects and contributing to their fundraisers. As an accomplished pool player, he also enjoyed playing pool not only with Eagle members but also with team members in Lee's Summit. He continued to be competitive until this year.
After being discharged from the Navy in 1954, he returned to Pittsburg where he and Margaret married and moved to California. There, Nick tried various labor-intensive jobs (e.g., tarring roofs) which led him back to Pittsburg State where he completed both his Bachelor and Masters' degrees in education.
 Accepting a position in the Hickman Mills School District to teach Industrial Arts, he moved his wife and young son, Randy (1957) to the Ruskin Heights area. He recalled he had to take a job at a local grocery store to help pay for rent and groceries. He continued teaching shop and woodworking at Ruskin High School until an area Vocational School opened. Always promoting the vocational aspect of education, he took some post-graduate work and became a vocational counselor, a position he retained along with general counseling in both high schools until he retired.
During the 35 years he taught, Nick always had at least one other job to help support his family which had grown to include Russell (1961). He taught Driver's Ed in the school district, both during the school year and summers, as well as teaching at night in downtown Kansas City where his students were sent by the courts. He became the first soccer coach in the district: a new sport for the school and a new job he came to love. One former player recalled, if someone got hurt, Nick would always tell them, "It will feel a lot better when it quits hurting."
 Although Nick's professional career was education, his lifetime preoccupation was the outdoors: camping, fishing, hunting, and traveling (and camping along the way) throughout areas of the United States, Canada and Alaska. His son Randy said these were the best years of his childhood. With a small trailer hitched to his station wagon, he drove the Alaskan Highway before it was completed: gravel and deep ruts making it almost impassable. Again, he had many stories to tell about these trips: bears, flooded tents, breakdowns in isolated places — all the things Mother nature had to offer. He lumped them all under "learning experiences" and made fun of all the people who paid a great deal of money for their "mobile living rooms" with TV and air conditioning.
 Of all the outdoor activities he was involved in, Nick loved duck hunting most. When he could no longer hunt, he described himself as a "reformed duck-a-holic." His extensive collection of duck-related items, decoys; ducks of all colors, sizes and materials; duck calls, and innumerable pictures of ducks, geese, and hunting scenes bear testament to his continued addiction. Included in this collection are lots of dog pictures, especially of his favorite breed, the Brittany: he had owned two he revered, Buck and Bud. Nick was also an excellent marksman, still able to "shoot a pattern" long after he stopped hunting.
 Nick was pre-deceased by his parents, his wife Margaret, his son Russell and his brother George. He leaves his son Randy, of Pleasant Hill; Grandson, David of Kansas City, Mo; his sister Betty of Pittsburg, as well as several nieces, nephews, and numerous friends. A few specific friends who will miss him very much are his pool-playing buddies as well as a former colleague , Jean Gelsinger ,his senior dance partner and companion the last few years. He will be missed by virtually all who knew him because of his presence, his friendly personality and his enthusiastic willingness to share his often-hilarious and always fascinating life experiences.
The family of William Matthew "Nick" Nicholson will receive friends from 11:00 a.m. until 12:00 Noon, Saturday, October 10, 2020 at the Wallace Funeral Home in Pleasant Hill, Missouri. Funeral Service will immediately follow at 12:00 Noon with Pastor Terry Sims officiating. Interment will be in the Pleasant Hill Cemetery with Full Military Honors conducted by the United States Navy and V.F.W. Post #3118 Honor Guard of Pleasant Hill.
Contributions In Memory of William Matthew "Nick Nicholson are suggested to any of the following:  KC Pet Project, Delta Waterfowl Organization or Kansas City Hospice and Palliative Care.