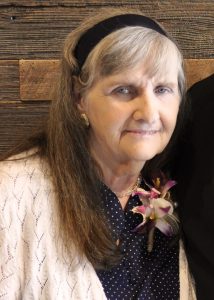 On Sunday, June 14, 2020, Wanda Lee Bellamy, went to be with her Lord and Savior Jesus Christ surrounded by her family at the age of 71.
Wanda was born on June 26, 1948 in Kansas City, Missouri, to Conerd E. Crownover and Jessie Mae (Pennington) Crownover.  Wanda had six sisters and one brother.  She graduated from Raytown South High School.
On September 29, 1979, Wanda married the love of her life, Darrel Bellamy under a big Oak Tree.  They made their first home together in Lee's Summit before building their home together in Pleasant Hill where they raised their son Darren.  Wanda became a full-time homemaker and stay at home mom while homeschooling Darren.
Wanda was a devoted wife, mother, grandmother and servant of the Lord.  Wanda really enjoyed serving people.  You could often find her hosting people from church at their home in Pleasant Hill.  Hospitality was something she would find joy in.  No matter how tired Wanda got, she wanted to help people and was a gracious hostess.
She loved watching Darren become a fireman, have a son and get married.  She enjoyed watching her grandson Jacob play soccer and attend his school events. Wanda's passion was spending time with her grandson, Jacob.  You could often find Wanda playing on the floor with him with his Legos, playing games with him and teaching him how to cook.  She helped Jacob grow a passion for cooking, he always loved going to Grandma and Grandpa's house and make brownies for them.  When Wanda found out the news that her son Darren and wife Bryana were going to have a baby, Wanda was ecstatic.  She became even more excited learning the baby was a girl.  Wanda looked forward to meeting her granddaughter.
Wanda is preceded in death by her parents Conerd and Jessie Crownover, three sisters, Cathy Zink, Melody Booth, and Connie Gibson
Wanda is survived by her husband Darrel Bellamy of Pleasant Hill, her son Darren (Bryana) Bellamy of Pleasant Hill, two step-sons Steven Bellamy of Kansas City, Brian Bellamy of Olathe, Kansas, one grandson Jacob Bellamy, one granddaughter due in October, one step-grandson Dustin Bellamy and one step-granddaughter, Tiffany Bellamy, two step-great grandchildren, Jasper and Rowan three sisters, Vena Johnson, Sheila Crow, Cheryl Wheeldon, and one brother, Alan Crownover.
A visitation will be held for Wanda on Friday, June 19, 2020 from 6-8pm at Wallace Funeral Home in Pleasant Hill.  Funeral services will be on Saturday, June 20, 2020 at 10:00am at Wallace Funeral Home.
Interment will be at Pleasant Hill Cemetery, Pleasant Hill, Missouri.