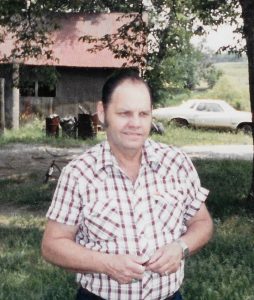 Gene Foley was born February 7, 1930 in Johnson County, Missouri and departed this life on May 5, 2019 at his home in Raymore, Missouri, surrounded by the love of his family, at the age of 89 years, 3 months and 3 days.
He was the son of Charles Thomas and Mary Pansy (Vannattan) Foley.
Gene spent his younger years in Cass County, Missouri. He proudly served his country in the United States Army. After his honorable discharge, Gene made his home in Greenwood, Missouri where he served as a volunteer fireman with Prairie Township Fire Department. He also served as Chief of Police of Greenwood.
Gene worked for Bendix Corporation from 1955 until 1992, retiring with 37 years of service.
Gene enjoyed fishing and listening to country music, with George Jones, Johnny Cash, Hank Williams, Sr., Merle Haggard and Tammy Wynette, being among his favorites. The most important thing in Gene's life, however, was his family. He dearly loved being surrounded by his children, grandchildren and great grandchildren.
Gene was preceded in death by his parents, Charles and Mary Foley; four brothers and four sisters.
He is survived by: one son, Vernon Foley, Jr. of Willard, Missouri; two daughters, Vickie Foley of Blue Springs, Missouri, and Shelly Smith and husband William of Pleasant Hill, Missouri; his long time companion, Nancy Jenkins of the home; one brother, Jim Foley and wife Dottie of Norborne, Missouri; four grandchildren and nine great grandchildren, other relatives and many, many friends.
Funeral Services for Gene Foley will be held at 2:00 p.m. Friday, May 10, 2019 at the Wallace Funeral Home with Rev. Tim Casteel officiating. Casket Bearers will be William Smith, Brandon Foley, Grant Knopp, Gary Nichols, Lahri Powell and Kaleb Powell. Interment will be in the Pleasant Hill Cemetery. The family of Gene Foley will receive friends from 6 – 8 p.m. Thursday at the funeral home.