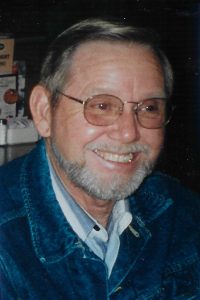 Russell King was born August 1, 1938 in Martin City, Missouri and departed this life on July 4, 2020 at Centerpoint Medical Center in Independence, Missouri at the age of 81 years 11 months and 3 days.
He was the son of Freeman Obanion and Rhoda Ann (Davis) King.
Russell spent his younger years in  Martin City, Missouri, El Dorado Springs, Missouri and Grandview, Missouri, where he attended grade school. The King family eventually moved to a farm in the Pleasant Hill, Missouri area when Russell was a freshman in high school, and he attended Pleasant Hill High School.
After high school, Russell took a position with Anderson Survey Company and worked there until his father's health began to decline, at which time, at his father's request, he took over the operation of running the family farm.
On December 12, 1957, Russell was united in marriage with June Ellen Foote at her parent's home in Belton, Missouri. They made their home on the King family farm for a short time before moving to Kansas City. Russell worked for Solo Cup for a brief time before becoming a police officer with the Gladstone Police Department. After several years, Russell left the police department to start his own construction company, J. R. K. Construction. Russell and June lived several places throughout their marriage including Smithville, Missouri.
Later, Russell semi-retired from J. R. K. Construction, and he and June traveled extensively throughout the United States. After their time traveling, they settled at Lake of the Ozarks, Missouri. After a while, Russell, a true "workaholic", decided retirement was not for him, he and June moved back to Pleasant Hill and Russell went back to work fulltime for his construction company. After his final retirement, and never one to set idle, Russell took the position of sexton of the Pleasant Hill Cemetery.
Russell was a member of the Big Creek Baptist Church, where he was on the planning committee for the new church, and eventually became the construction manager for the building project. Russell was a Deacon of Big Creek Baptist Church and at the time of his death was a Deacon Emeritus.
Russell enjoyed wood carving and had belonged to a carving group at The Knot Hole Wood Carving Studio in Pleasant Hill, Missouri. He also enjoyed fishing, boating and water skiing.
Russell was preceded in death by his parents, Freeman and Rhoda King; one brother, Freeman B. King, and two sisters, Vivian Duncan and Hazel Bailey.
He is survived his wife June (Foote) King of the home; two sons, Reese L. King of Lee's Summit, Missouri and Ernest King of Kansas City, Missouri; one sister, Mary Ann Carlson and husband Fred of Kansas City, Missouri; three grandchildren, Samantha King, Reese L. King, Jr. and Zechariah King, other relatives and many, many friends.
The family of Russell King will receive friends from 11:00 a.m. until 12:00 Noon on Friday, July 10, 2020 at the Wallace Funeral Home in Pleasant Hill. Funeral Service will immediately follow at 12:00 Noon, at the funeral home, with Pastor Robert Harnden officiating. Casket Bearers will be Larry Colvin, Jim Alexander, Gib Sudduth, Durwin Bakken, Lloyd Ross and David Hertzog. Interment will be in the Pleasant Hill Cemetery.