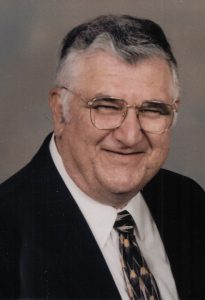 Robert Lee "Bob" Sims was born February 14, 1942 in Bascom, Florida and departed this life on February 28, 2021 at Missouri Veterans Home in Warrensburg Missouri, surrounded by the love of family, at the age of 79 years and 14 days.
He was the son of Fred and Vera "Mildred" (Allen) Sims.
Bob spent his younger years in Florida, graduating from Blountstown High School, Blountstown, Florida in 1960.
On September 23, 1960 Bob joined the United States Air Force and proudly served his country for 23 years, retiring on September 30, 1983 with the rank of Technical Sergeant. After retiring from the United States Air Force, Bob attended Midwest Baptist Seminary in Kansas City, Missouri.
On August 21, 1961, Bob was united in marriage with Clara Walden of Bristol, Florida. Bob and Clara were stationed many places throughout Bob's military career including South Carolina, Texas, Panama Canal Zone, Missouri, the Philippines, then back to Missouri. After Bob's retirement, Bob and Clara made their home in Missouri.
Bob was a pastor in God's service for 17 years before retirement. He was the minister of the Cleveland Missouri Baptist Church for many years, before God lead him to Rose Hill Baptist Church in LaTour, Missouri where he was serving as pastor at the time of his retirement. Bob's heart and life was serving God. His favorite question to ask of anyone he met was "are you going to Heaven, yes, no or I hope so", and from that question alone, Bob led many to the Lord.
Bob was preceded in death by his father, Fred Sims; his mother and step-father, Mildred and Horace Kent, and one granddaughter, Jennifer Cincoski.
He is survived by his wife of 59 years, Clara (Walden) Sims of the home; two sons, Robert "Keith" Sims of Columbia, Missouri and John M. Sims and wife Jennifer of Raymore, Missouri; two daughters, Regina Cincoski and husband Thomas of Cottage Grove, Minnesota and Jenna Cooper and husband Chris of Lenexa, Kansas; 15 Grandchildren, 7 Great-Grandchildren; special friends, Rex and Diana Fugate of Cleveland, Missouri, other relatives and many, many friends.
Per Bob's wishes, cremation has been accorded.
 A Memorial Visitation "In Memory of Robert Lee "Bob" Sims" will be held from 5:00 – 7:00 p.m. on Thursday, March 18, 2021, at the Wallace Funeral Home in Pleasant Hill, Missouri. Graveside Service with Full Military Honors will be held at Leavenworth National Cemetery on Friday, March 19, 2021 at 12:30 p.m. Military Honors will be provided by the United States Air Force Honor Guard from Whiteman Air Force Base, Knob Noster, Missouri.