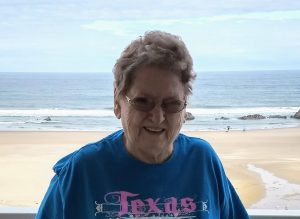 Lois Jean (Johnson) DeFerrari was born August 14, 1938 in Pleasant Hill, Missouri and departed this life on September 29, 2020 at Bothwell Regional Health Center in Sedalia, Missouri at the age of 82 years 1 month and 15 days.
She was the daughter of William Amel and Beula (How) Johnson.
The Johnson family moved to Kingsville to make their home when Lois was twelve years old. After graduating Kingsville High School in 1956, Lois moved back to Pleasant Hill and went to work for Cheryl Crystal Company in Kansas City, MO. She worked for Cheryl Crystal for several years, before taking a position with Western Electric in Lee's Summit, Missouri.
On February 7, 1970, Lois was united in marriage with Robert E. DeFerrari in Pleasant Hill, Missouri. After their marriage, they moved to Sacramento, California where they lived for 2  years before moving to Yuba City for 5 years, then to Vacaville where they lived until June of 1990 when they moved to Warsaw, Missouri to make their home. Robert passed away on October 31, 2009 and Lois continued to live in Warsaw after his death.
Lois was an active member of Cedar Grove Baptist Church in Warsaw, Missouri, where she became involved with "Operation Christmas Child" which is an outreach program of Samaritan's Purse. Over the years, Lois assembled thousands of boxes containing school supplies, hygiene kits, toys and clothing to bring hope, joy and the Gospel of Jesus Christ to children around the world. For several years, Lois transported children from a daycare in Warsaw, Missouri to Bible School at Cedar Grove Baptist Church, sometimes making more than one trip, to ensure every child had the opportunity to attend and hear the teachings of Our Lord and Savior, Jesus Christ.
Lois was a loving and dedicated daughter, wife, mother, grandmother and sister. She loved gathering her family for special occasions, and when they couldn't be together, she would always call to check on everyone.
Lois was preceded in death by her husband, Robert DeFerrari; her parents, Amel and Beula Johnson and one son, Steven Rhodes.
She is survived by three sons, Jim Rhodes and wife Eileen of Kuna, Idaho, Pat Rhodes and wife Carrie of Portland, Oregon, Robert DeFerrari, II and wife Pam of Vancouver, Washington; four daughters, Linda Bauman and husband Larry of Vancouver, Washington, Darlene Layton and husband Larry of Gladstone, Oregon, Pam Lee and Larry of Portland, Oregon and Carol Petesch of Warsaw, Missouri; two brothers, Larry Johnson and wife Juaneita of Pleasant Hill, Missouri and Phillip Johnson and wife Kathleen of Blue Springs, Missouri; one sister, Charlene Foster of Pleasant Hill, Missouri; sixteen grandchildren; several great-grandchildren; one great-great grandchild; nieces, nephews, other relatives and many, many friends.
A Memorial Service, In Memory of Lois Jean (Johnson) DeFerrari, will be held at Cedar Grove Baptist Church in Warsaw, Missouri, at a later date.
Contributions "In Memory of Lois Jean DeFerrari" may be made to Cedar Grove Baptist Church- Please designate in memo line: "For Operation Christmas Child" or "OCC"; and may be mailed to Cedar Grove Baptist Church, P.O. Box 815, Warsaw, MO 65355. 
Cremation arrangements entrusted to Wallace Funeral Home, Pleasant Hill, Missouri.