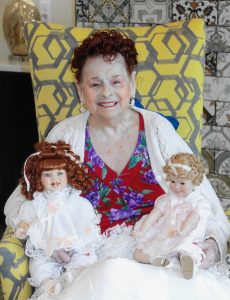 LaVeta P. (Preator) Hasenyager Gillespie was born February 2, 1929 in Independence, Missouri and departed this life on June 7, 2019 at Northland Rehabilitation and Health Care Center in Kansas City, Missouri at the age of 90 years, 4 months and 5 days.
She was the daughter of Mr. and Mrs. Harold Preator.
LaVeta spent her younger years in Independence, Missouri, where she attended school. LaVeta was a very strong and independent woman. At 16 she pursued a career as a dancer at the Folly Theater in Kansas City, Missouri.
 In 1947, LaVeta was united in marriage with John David Hasenyager in Independence, Missouri. LaVeta and John spent some time in California where John worked in the oil fields. Later they returned to Missouri to make their home. They divorced some years later and LaVeta married George Gillespie.
In addition to being the loving mother of seven children, LaVeta was owner and operator of several farms. She also worked as a security guard for several security companies in the Kansas City area. At age 82, after sustaining severe injuries in an automobile accident, she was forced to give up her security guard job due to declining health.
Laveta was a member of The Church of Jesus Christ of Latter-day Saints in Independence, Missouri.
She was preceded in death by her husband, George E. Gillespie; her parents, Mr. and Mrs. Harold Preator; four sons, Johnny Hasenyager, Jerry Hasenyager, Larry D. Hasenyager and Gary Vochatzer.
LaVeta is survived by one son, Scott Gillespie of Independence, Missouri; two daughters, Jeannece Hasenyager of Claycomo, Missouri, and Cynthia Campbell of Kansas City, Missouri; one brother, Leon Preator of Warsaw, Missouri; beloved friend, James Hawkins; 22 Grandchildren and 1 Great-Grandchild, other relatives and many friends.
Funeral Services for LaVeta P. (Preator) Hasenyager Gillespie will be held at 2 p.m. Thursday, June 13, 2019 at the Wallace Funeral Home in Pleasant Hill, Missouri with Brother Craig Battrick officiating. Casket Bearers will be Scott Gillespie, Tim Miller, Frank Smith, Dillian Gillespie, and Johnny Price. Interment will be in the Pleasant Hill Cemetery.