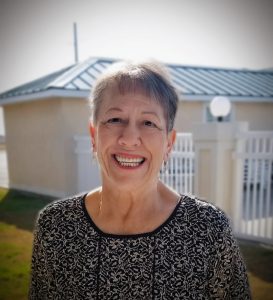 Joyce Ann Thomas, 78, passed away January 1, 2019, at her home, in the company of family, following a courageous battle with cancer.
Joyce was born on February 4, 1940, in the small town of Victoria, Arkansas.  She was the daughter of Aubrey and Minnie Louise (Cooksey) Easley and the oldest of 14 children. She lived in Arkansas during her teenage years and attended Turrell High School.  She met her beloved husband, Kenneth Thomas in 1964 and they were joined in marriage June 10, 1966 in Shawnee, KS.  Joyce and Kenneth adopted 2 children that she devoted her life to. Joyce and Kenneth lived in several places early in their marriage including Manhattan, KS, Roeland Park, KS and Prairie Village, KS, before moving to Idaho Falls, ID in 1986. Later in their marriage they also lived in Spring, TX and Richland, WA before retiring to Pleasant Hill, MO in 2009.
Joyce dedicated her time to raising her two children and took tremendous pride in maintaining her home for her family. She always made holidays, especially Christmas, memorable. She enjoyed being with her family, fishing, visiting, travelling, and for a period of time playing judo, when her husband was in college. After moving to Pleasant Hill, MO they enjoyed taking trips on their motorcycle with friends.
She was kind, friendly, generous and loving and, all who knew her liked her. She will forever be in our hearts.
Joyce was preceded in death by her parents, Aubrey and Minnie Louise Easley; six brothers, Aubrey Easley, Jr., Travis Easley, Walter Edward Easley, Don Carlos Easley, Timothy Easley and Tony Easley, and one sister, Margie Whitacre.
She is survived by her husband, Kenneth Thomas of the home; a daughter, Jennifer Hill (Brad Torrez) of Pleasant Hill, Missouri; a son, K. Travis Thomas, and grandson Shawn Thomas both of Idaho Falls, Idaho; two brothers, Roy Easley and wife Mary of Rockford, Illinois, and Joe Easley of Texarkana, Texas; five sisters, Linda Champion of Oregon, Illinois, Faye Melton and husband Rick of Bruce, Mississippi, Carolyn Benson of West Monroe, Louisiana, Patricia Price (Bill Termini) of Memphis, Tennessee, other relatives and friends. 
Joyce will be greatly missed as a devoted wife, unconditionally loving mother and best friend. She was devoted to her family and will be long-remembered as the most caring and supportive wife and mother in the world.
Funeral Services for Joyce Ann Thomas will be held at 2:00 p.m. Monday, January 7, 2019 at the Wallace Funeral Home in Pleasant Hill, Missouri with Rev. David Owsley officiating. Casket Bearers will be Rick Melton, Brad Torrez, Daniel DeLano and Milton Christian. Burial will be in the Pleasant Hill Cemetery. The family will receive friends from 12:00 noon to 2:00 p.m. at the funeral home on Monday, January 7, 2019. Contributions are suggested to St. Jude Children's Research Hospital, and may be left at the funeral home.