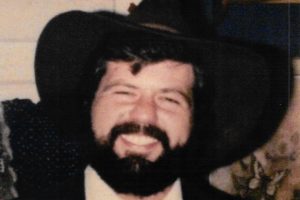 Joey Wayne King was born July 30, 1959 in Bakersfield, California and departed this life on April 29, 2019 at Lee's Summit Medical Center in Lee's Summit, Missouri at the age of 59 years, 8 months and 30 days.
He was the son of Joseph Elijah and Shirley Temple (McQuillan) King.
While Joey was still an infant, the King family moved from California to the Lowell, Kansas area where Joey spent most of his life. Joey graduated from Riverton, Kansas High School in 1977. After graduation Joey worked as a mechanic and occasionally, as a tree trimmer. In 2014, with his health declining, Joey moved to Pleasant Hill to be closer to his brother, Charles and his family.
Joey enjoyed driving in demolition derby's, fixing and driving vintage trucks, putting together model cars, singing and playing his guitar, watching old television shows (among his favorite were the Andy Griffith Show and Beverly Hillbillies), and fishing with his family.
 Joey never knew a stranger, his infectious smile and friendly demeanor made him a favorite with his care givers, and earned him somewhat of a reputation as a "flirt".
Joey was grateful for, and wanted to thank, all his caregivers at Pleasant Hill Heath and Rehabilitation Center, Shangri-La Rehab and Living Center, and all the nurses that cared for him during his many hospitalizations. He also wanted to thank his brother, Charles, who he called his hero and best friend.
Joey is survived by many loving family members.
The family of Joey Wayne King will receive friends from 12:00 noon until service time at 2:00 p.m. Monday, May 6, 2019 at the Wallace Funeral Home in Pleasant Hill, Missouri. Funeral Service will immediately follow at 2:00 p.m. at the funeral home with Rev. Kent Deubner officiating. Casket Bearers will be Charles King, Richard King, Ken Purdy, Jon Perkins, Rusty H. King, Justin Slack, and Juan Paulo Zaragoza. Honorary Bearers are Bill King, Ray Dean King, Wesley King and Radgie King. Interment will be in the Lone Jack Cemetery.