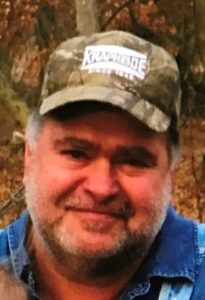 Rick Schmoll, lifelong Pleasant Hill resident, was born June 25, 1955 in Harrisonville, Missouri and departed this life Sunday, November 5, 2017 at his home in Pleasant Hill, Missouri at the age of 62 years, 4 months and 11 days.
He was the son of Clarence E. and Lillian (Larson) Schmoll.
Rick spent his entire life in the Pleasant Hill area, graduating from Pleasant Hill High School in 1973.
On May 22, 1982 Rick was united in marriage with Linda Marie Foley at the Pleasant Hill Christian Church and to this union two children, Dana Marie and James Richard "Bub", Jr.  were born. Linda preceded Rick in death on February 4, 2003.
On November 25, 2006, Rick was united in marriage with Theresa Meador at their home in Pleasant Hill.
Rick worked as a truck driver until declining health forced his retirement.
Rick was a member of both Jewel Lodge #480 A.F. & A.M. and O.E.S. Ivy Leaf Chapter #215, both of Pleasant Hill. He also served as a board member of the Pitts Chapel Cemetery.
Rick enjoyed farming and working with his cattle. When his health permitted, he also enjoyed hunting and fishing with family and friends. Rick organized and presided over many family and friend gatherings where he went out of his way to visit with everyone and make them feel "at home".
In addition to his first wife, Linda, Rick was preceded in death by his parents, Clarence and Lillian Schmoll.
He is survived by his wife Theresa (Meador) Schmoll of the home; one son, James Richard "Bub" Schmoll, Jr. and Amanda Smith of Kingsville, Missouri; one daughter, Dana Marie (Schmoll) Raymond and husband Robert of Osceola, Missouri; two step-sons, Chris Webber and wife Savannah of Pleasant Hill, Missouri and Joe Webber and wife Shelia of Belton, Missouri; two brothers, Jon J. Schmoll and wife Ruth of Urich, Missouri and George H. Schmoll of Harrisonvile, Missouri; two sisters, Rebecca H. "Becky" Carlile and husband Wally, and Jaclyn "Jackie" Parris and husband Ronnie all of Pleasant Hill, Missouri; and the joy of his life, his seven grandchildren, twins Esme and Remi Webber, Skyla Webber, Jeff Raymond, Adriana and Alex Smith and Elijah Fritz; other relatives and many, many friends.
Funeral Service for Rick Schmoll will be held at 10:00 a.m. Friday, November 10, 2017 at the Wallace Funeral Home in Pleasant Hill with Rev. Kent Deubner officiating. Casket Bearers will be Ricky "Bub" Schmoll, Jr., Chris Webber, Jeremiah Carlile, Jason Carlile, Nathan Carlile, Robert Raymond, Jimmie Dean Ross, and Charlie Robertson. Honorary Bearers will be Robert "Bob" Meador, Walt Borer, Roger Hubler, Jim Beattie, Danny Gray, Terry Faulkenberry, Tommie Faulkenberry, Glover Springer, Clint Springer and Mark Kirk. Interment will be in the Pitts Chapel Cemetery. The family will receive friends from 5:00 – 8:00 p.m. Thursday, November 9, 2017 at the funeral home, where a Masonic Service will be held at 8:00 p.m. with Mr. Jim Williams officiating.
The family suggests contributions to the American Diabetes Association.