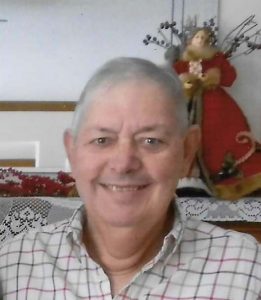 James D. Way of Lone Jack, MO transitioned to our Lord on March 11, 2019 after heroically battling cancer for the past few years.  A Celebration of Life will be March 20, 2019 at 1:00 p.m. at the Wallace Funeral Home, 422 N. Lake St., Pleasant Hill, MO with interment following at 3:00 p.m. at the Pleasant Hill Cemetery, 1501 N. State Rt. 7 Hiway., Pleasant Hill, MO., with Full Military Honors provided by the United States Marine Corp. and V.F.W. Post #3118 Honor Team of Pleasant Hill, MO.
James Daniel Way was born January 23, 1947, in Nevada, MO to Clifford L. Way and Edna Juanita (Thomas) Way.  They lived in Schell City and then moved to Missouri City, MO. when Jim was just an infant.  He attended Missouri City Elementary School and graduated in 1966 from Excelsior Springs High School where he participated in basketball and track.
During high school, he worked to buy and maintain his '54 Chevy Bel Air, his '56 Olds, and then his '55 Chevy Bel Air.  His love of "wheels" kept him supplied with various cars, pickups, and motorcycles.
After graduation, Jim was employed as a paper cutter in the Manufacturing Department of Hallmark Cards in Kansas City, MO until he retired after 36 years in March 2002.  Because his dad was a Marine, Jim wanted to be one too. He joined the US Marine Corp in 1966 and was sent to Vietnam.  After receiving 2 Purple Hearts, he was discharged in 1970.  Jim then continued his employment with Hallmark Cards.
Jim enjoyed many activities with his friends and family; bowling leagues, snow skiing, canoeing (he was part of a group of friends that went canoeing every year for over 30 years), attending KC Chief games, dancing, motorcycle road trips, watching Tyler on stage and Jake play college baseball.
In 1993, a friend suggested for Jim to go on a blind date to be a partner for a woman taking country-western line dancing lessons.  He and Sandra became quite the dancing couple! They became members of the Show-Me Country Dance Club and danced their way to romance!
They were married at Unity Village Chapel on September 22, 1995 and made their home in Lone Jack, MO.  Since they enjoyed horseback trail riding, Jim decided to get a horse so they built a garage/barn on their 10 acres and bought the neighbors rodeo team-roping horse, Sage.  Jim and Sandy went on many trail rides with friends and family.
One of Jim's biggest dreams was to restore another "55 Chevy Bel Air".  After retiring from Hallmark Cards, he began restoring a "55 Chevy Bel Air" HT drag car which he finished in 2007.   He customized the car the way he envisioned it to be.  The Chevy was painted Gypsy Red so, being a Gypsy, they took her on the "road".  Jim wasn't thinking of competing, he just loved driving her and talking with other car people.  Gypsy received many recognitions.
Each year, Jim and Sandy drove the car to Magic Dragon at Bagnell Dam, Goodguys shows in Kansas City, KS and Des Moines, IA and the Fall Follies in Laurie, MO as well as attending many local shows.
Jim was a quiet and humble man.  He didn't like drawing attention to himself and only spoke when he thought he had something to contribute.  He made friends easily and stayed loyal to their friendships.
Preceding him in death were his parents and his brother, Lowell L. Way.
Surviving him is his wife, Sandra L. Hay (Way); stepdaughter and husband, Pamela and Doug Fromson (Lee's Summit, MO); step-grandsons, Tyler Fromson (New York City, NY), and Jacob Fromson (Springfield, MO); his sister, Nancy Jones (Bartlett, TN); and his brother and his wife, Clifford and LaDonna Way (Excelsior Springs, MO).  He also leaves aunts, uncles, cousins, nieces, nephews, and many friends as well as his horse, Sage, and his cat, Toby.
In lieu of flowers or plants, donations would be appreciated to the Kansas City Hospice House.