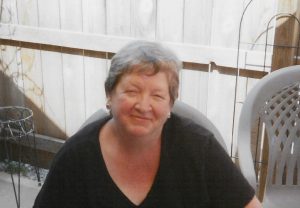 Inez Charlene Haile of Pleasant Hill, Missouri, was born July 8, 1945 to Ernie William Bartlett and Inez Christene (Armer) Bartlett in Harrison, Arkansas. She passed away May 17, 2019 at Research Medical Center in Kansas City, Missouri, surrounded by love and family.
Charlene went to school in Kansas City, Missouri.
She retired from GE Global Railroad Technology, where she was a certified solderer for circuit boards. Her most important and loved job was being a wife, mother, grandmother, great grandmother, daughter, sister, aunt and friend.
Charlene was united in marriage with Raymond Haile in May of 1982. They made their home south of Pleasant Hill.
Charlene was preceded in death by her parents; an infant sister; an infant brother; brother, Dewayne Bartlett; sister, Doris Jewett; brother-in-law, Fred Jewett; sister-in-law, Connie Kilgore; niece, Peggy Eddings, and step-daughter, Tracey Dallas.
She is survived by her husband, Raymond of the home; sons, David (Desi) Collins of Lee's Summit, Missouri, and Doug Collins of Greenwood, Missouri; step-son, Greg Haile of Pleasant Hill, Missouri; sister, Kathy (Gene) McCauley of Pleasant Hill, Missouri; brother, Devoe (Linda) Woodworth of Harrison, Arkansas; grandchildren, Tim (Andrea) Collins, Corey (Sarah) Collins, Chelsea Collins, and Lexi Collins; great-grandchildren, Alivia, Colton, Cooper, Kali, and was looking forward to welcoming great grandson, Avery, in July. She also leaves behind many more relatives and friends.
The family of Inez Charlene Haile will receive friends from 6:00 – 8:00 p.m. Tuesday, May 21, 2019 at the Wallace Funeral Home. Funeral Service will be held at 11:00 a.m. Wednesday, May 22, 2019 at the Wallace Funeral Home with Rev. Kent Deubner officiating. Casket Bearers will be David Collins, Doug Collins, Tim Collins, Corey Collins, Christian Peuster and Tyler Wilhite. Honorary Bearers are Raymond Haile and Gene McCauley. Interment will be in the Pleasant Hill Cemetery.