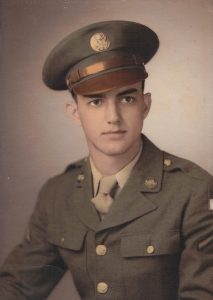 Elroy Winford Lampton was born January 30, 1926 in Morgan County near Versailles, Missouri and departed this life on October 6, 2020 at his son's home in Greenwood, Missouri surrounded by the love of his family, at the age of 94 years, 9 months and 6 days.
He was the son of Arthur Eubank and Gertrude Elsie (Hanby) "Gertie" Lampton.
Elroy began his education in a one room schoolhouse at Lone Star and graduated from Versailles High School in 1943
In March of 1944, Elroy was drafted into the Army. He proudly served his country in the Pacific until March 11, 1946 when he was honorably discharged as a S/Sgt. Elroy also served in the Army Reserves for three additional years during the cold war.
In August of 1943, before Elroy went into the military, he went on a date with a young high school student named Margaret "Helen" Richardson. Their courtship continued through his military service, and after being honorably discharged from the Army, he presented 16 year- old Helen with an engagement ring. He asked her if she was ready to get an engagement ring and would she like it now or later? She replied "Now". They were engaged for over a year while she finished high school. On May 31, 1947, just after Helen graduated and had her 18th birthday, Elroy and Helen were married. Elroy adored Helen and their marriage lasted for 54 years, until her death on October 1, 2001.
On May 5, 1947, Elroy took a position with Sheffield Steel (which later became Armco Steel) in Kansas City, Missouri. He retired from Armco on August 31, 1979 with over 32 years of service.
Some of Elroy's best memories were gathering his family around the dinner table, with good food and love filling everyone's heart. Elroy was an extremely successful gardener and loved to "put out" a large garden.
Elroy was a member of the United Methodist Church of Pleasant Hill, Missouri, and a former member of the United Steelworkers Union.
Elroy was preceded in death by his parents, Arthur and Gertie Lampton; four brothers, Elmo, Arlo, Woodrow and Orville; six sisters, Alma, Wilma, Marie, Hilma, Elnore and Bernice, and one granddaughter, Mindy Hobbs.
He is survived by his 3 children, Dianne Hobbs and husband Dennis of Greeley, Colorado, David Lampton and wife Brenda of Greenwood, Missouri, Claudia Hirst and husband Russell of Pleasant Hill, Missouri; 5 grandchildren, Brian Hobbs, Jon Hobbs, Aimee Adams, Jeff Hirst and Jessica Hirst Driskell; 15 great grandchildren, nieces, nephews, other relatives and several really good neighbors.
Private Graveside Service and Interment will be held at the Pleasant Hill Cemetery, Pleasant Hill, Missouri.
Arrangements: Wallace Funeral Home, Peasant Hill, Missouri