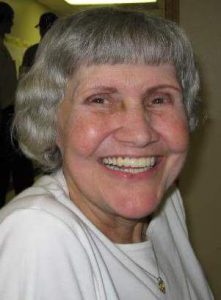 Dorothy Ann "Dolly" (Harris) Capps was born July 2, 1946 in Kansas City, Kansas and departed this life on January 3, 2018 at Pleasant Hill Health and Rehabilitation Center in Pleasant Hill, Missouri at the age of 71 years, 6 months and 1 day.
She was the daughter of John Early and Dorothy Evangeline (Norris) Harris.
Dolly spent her younger years in Kansas City, Kansas where she attended Wyandotte High School. In 1962, Dolly was united in marriage with Royce Gerald Wilson. After their marriage, they lived in Kansas City, Kansas for a few years before moving to Palestine, Texas to make their home. Mr. Wilson passed away in 1972. After Mr. Wilson's death, Dolly moved her family back to Shawnee, Kansas.
In 1978, after Dolly's marriage to Thomas Delmar Capps, she moved to Pleasant Hill to make her home. Mr. Capps preceded Dolly in death in 1996.
Dolly worked as a cashier at EZ Stop in Pleasant Hill until the store permanently closed, she then took a position with Casey's General Store in Pleasant Hill, where her outgoing and caring personality made her a favorite with the clientele. She intuitively knew when someone was having a bad day and would ask if she could give them a hug, trying her best to make their day brighter. 
Dolly was the matriarch of her family. She was a caring and loving wife, mother and grandmother and always went out of her way to do what was best for her family.
Dolly was a devoted and active member of the Open Door Full Gospel Church of Pleasant Hill.
In addition to her first husband, Royce Gerald Wilson and her second husband, Thomas Delmar Capps, Dolly was preceded in death by her parents, John and Dorothy Harris; four brothers, Jerry, Jack, Chuck and Earl Harris and two sisters, Susie Boggs and Laura Gochenhour.
She is survived by one son, William (Bill) Wilson and wife Kathy of Pleasant Hill, Missouri; one step-son, Mitchell Capps and wife Sara of Mobile, Alabama; three daughters, Jerri Harp and husband Max, and Wendy Wilson all of Pleasant Hill, Missouri, and Angela Slayden of Kingsville, Missouri; three step-daughters, Janice Jarrett and husband Mike of Raytown, Missouri, Patricia Grandfield and husband Steven of Warrensburg, Missouri and Cheryl Knapp and husband Robin of St. Joseph, Missouri; one sister, Helen Pearl Millican of Belton, Missouri; 7 grandchildren and 20 great-grandchildren, other relatives and many, many friends.
Funeral Services for Dorothy Ann "Dolly" Capps will be held 12:00 noon Friday, January 12, 2018 at the Wallace Funeral Home in Pleasant Hill with Pastor Dennis Gulley officiating. Casket Bearers will be Christopher (Ryan) Wilson, Brandon Wilson, Steven J. Wilson, Christopher McCabe, Robbie Harp and Joey Russell. Burial will be in the Pleasant Hill Cemetery. The family will receive friends from 6:00 – 8:00 p.m. Thursday, January 11, 2018 at the funeral home.