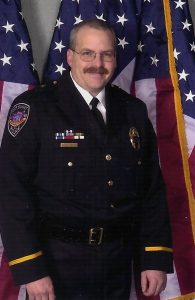 John Lawrence King was born June 26, 1962 in Kansas City, Kansas and departed this life on March 13, 2020 at his home in Pleasant Hill, Missouri, surrounded by the love of his family, at the age of 57 years, 8 months and 16 days.
He was the son of Everett D. and Laura Carolyn (Berger) King.
John grew up and attended school in Lee's Summit, Missouri, graduating from Lee's Summit High School in 1980. John went on to attend the Kansas City Regional Police Academy at Penn Valley Community College, graduating from the Academy in 1983. After graduation from the police academy, John joined the Lee's Summit Police Department were he proudly served for 35 ½ years. During his 35 ½ years, John served in many capacities, he was commander of the Swat Team, a hostage negotiator and a member of the Drug Task Force. John worked his way up through the ranks and was extremely proud when he became a Detective Sgt. Due to health reasons, John answered his "Last Call" on March 15, 2019. His knowledge, dedication and compassion will be sorely missed.
On May 6, 1995, John was united in marriage with Deedria Aleia Faulkner in Branson, Missouri. They lived in Lee's Summit, Missouri until 2000 when they moved their family to Pleasant Hill, Missouri to make their home.
John was a loving son, husband and father. He took great pride in his children and their accomplishments. John was a consummate conservationist and a devoted steward of the land. He passed along his dedication to conservation and love of the land, to his children, as well as other important lessons in life.
John had been a member of the National Tactical Officers Association.
John was preceded in death by his father Everett D. King on April 2, 2005.
He is survived by his wife DeeDee King of the home; his mother, Laura Carolyn (Berger) King of Pleasant Hill, Missouri; one son, Jeremie Ruth and wife Jamie of Oak Grove, Missouri; three daughters, Jordyn Tomlin and husband Allen of Independence, Missouri, Caitlin Stewart and husband Travis of Pleasant Hill, Missouri, and Kasey King of Lee's Summit, Missouri; two granddaughters, Ruby and Mabel; his "Brother's in Blue" and many, many loving friends.
Cremation has been accorded. A Memorial Service and Tribute to Detective Sgt. John Lawrence King will be held at a later date and will be published here when information becomes available. The family suggests contributions to Answering the Call, P.O. Box 6763, Lee's Summit, Missouri 64064. Please note in memo line "In Memory of Det. Sgt. John L. King".