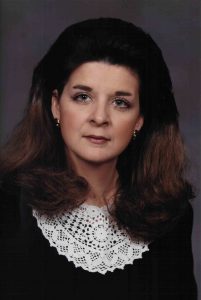 Cathie (Long) Roby was born August 23, 1957 in Kansas City, Missouri and departed this life on February 25, 2019 at her home in Lee's Summit, Missouri, surrounded by the love of her family, at the age of 61 years, 6 months and 2 days.
She was the daughter of George T. "Corky" and Dorothy Jean (Mills) Long.
Cathie spent her younger years in Pleasant Hill, graduating from Pleasant Hill High School in 1975. She went on to study Elementary Education at Metropolitan Community College-Longview.
On September 9, 1989 she was united in marriage with Johnnie E. Roby in Archie, Missouri. After their marriage, Cathie and Johnnie lived in Archie for about a year before moving to Lee's Summit to make their home.
Cathie had worked for Unity Village as a secretary/receptionist. She was a member of the First Presbyterian Church of Pleasant Hill, Missouri.
Cathie's entire life revolved around her family. She truly enjoyed being a loving wife, mother and grandmother, as well as a devoted daughter, sister and aunt. She went out of her way to make all those around her feel special and know they were loved.
In her spare time, Cathie enjoyed collecting anything that had to do with the Royal Family, adding to her collection of carousel horses, and sewing.
Cathie was preceded in death by her mother, Dorothy Jean (Mills) Long; one son, John Matthew "Matt" Roby, and one great grandchild, Ryleigh Ramae Oakman.
She is survived by her husband, Johnnie Roby of the home; her father, George "Corky" Long of Pleasant Hill, Missouri; one son, Denton "Keith" Roby and wife Michelle of Lee's Summit, Missouri; two daughters, Reva Oakman of Crain, Missouri, and Tabitha Horton of Independence, Missouri; one brother, Stephen Long and wife Donna of Pleasant Hill, Missouri; grandchildren, C. J. Oakman and wife Michella of Mt. Vernon, Missouri, Jonetta Dean of Holden, Missouri, Amber Rector and Shawn Morris, Jr. both of Independence, Missouri, Madison Sommers and husband Patrick Thomas of Ontario, Canada, Jewels Myers and Shaneley Myers-Roby both of Lee's Summit, Missouri and Shiloh Roby of Harrisonville, Missouri; 8 great-grandchildren; one niece, Jennifer LeeAnn Long and husband Jimmy of Olathe, Kansas; one nephew, Joshua Dean Long of Pleasant Hill, Missouri; one great nephew, Oliver James Long; other relatives and many, many friends.
The family of Cathie Roby will receive friends from 10:00 – 11:00 a.m. Friday, March 1, 2019 at the Wallace Funeral Home in Pleasant Hill. Funeral Service will immediately follow at 11:00 a.m. with Rev. Kent Deubner officiating. Casket Bearers will be Joshua Long, Jimmy Long, Keith Roby, C. J. Oakman, Shawn Morris, Jr., Amber Rector, Jewels Myers and Mike Dains. Interment will be in the Pleasant Hill Cemetery. The family suggests contributions to the American Cancer Society and may be left at the funeral home or mailed directly to: American Cancer Society, P.O. Box 22718, Oklahoma City, OK 73123-1718.