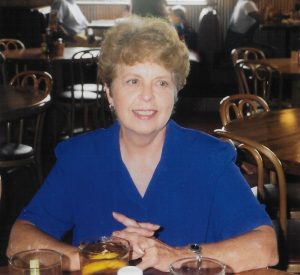 Audrey Claire (Rogers) Shewmaker was born January 27, 1939 in Glasgow, Montana and departed this life on May 27, 2019 at her daughter's home in Odessa, Missouri, surrounded by the love of her family.
She was the daughter of Earl and Melba (St. Clair) Rogers.
The Rogers family moved from Montana to Pleasant Hill, Missouri while Audrey was still a small child. Audrey attended school in Pleasant Hill and graduated from Pleasant Hill High School in 1957. After graduation, she went on to obtain an Associates Degree.
On July 3, 1968, Audrey was united in marriage with Donald Eugene Shewmaker and they made their home in Pleasant Hill.
Audrey was employed at Western Electric/AT&T/ Lucent for 36 years. During that time she held the positions of executive secretary, placement coordinator in personnel, and as a technical clerk in the shipping department.
Audrey was an active member of the Pleasant Grove Primitive Baptist Church in Independence, Missouri.
Audrey enjoyed flower gardening. She was also an avid animal lover, who loved feeding the wildlife surrounding her home, and often rescued animals in need.
Audrey was preceded in death by her husband, Donald Eugene Shewmaker on October 6, 2018; her parents, Earl and Melba Rogers, and one brother, Leonard Rogers.
She is survived by her two daughters, Jill St. Clair Ginavan and husband Patrick of Gasport, New York, and Sarah Beth Watson and husband Bruce of Odessa, Missouri; one step-daughter, Kelli Cook and husband Randy of Michigan; one brother, Duane Rogers and wife Gail of Pleasant Hill, Missouri; one sister, Sharon Birch and husband Mike of Pleasant Hill, Missouri; one sister-in-law, Arlene Rogers; seven grandchildren, Lucas Watson and wife Heather, Elizabeth Snyder and husband Austin, Charley Ginavan, Sam Ginavan and wife Taylor, Shelby Cook, Darby Cook and James Cook; three great grandchildren, Grant Ginavan, Cooper Watson, Harper Watson, and one great grandbaby pending; many brothers and sisters-in-law, who she loved dearly. She also leaves special friends, the BB's; her school chums; and many other precious friends. Audrey will be greatly missed by her little rescue dog, Millie, and her cat, Tater.
Funeral Services for Audrey Claire (Rogers) Shewmaker will be held at 11:00 a.m. Thursday, May 30, 2019 at the Wallace Funeral Home in Pleasant Hill, with Elder Phil Jones officiating, and her brother, Duane Rogers assisting. Casket Bearers will be Lucas Watson, Terry Rogers, Greg Rogers, David Rogers, Darby Cook, Caleb Rogers, Austin Snyder and Bruce Watson. Interment will be in the Pleasant Hill Cemetery. The family of Audrey Shewmaker will receive friends from 9:30 a.m. until service time at 11:00 a.m. at the funeral home. Contributions are suggested to HELP Humane, 17122 Bel-Ray Pl., Belton, Missouri 64012, or may be left at the funeral home.