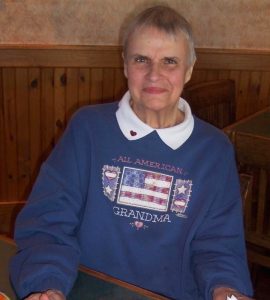 Arlene Marie (Heimburger) Gebaur was born December 13, 1931 in Kansas City, Kansas and departed this life on March 14, 2020 at Garden Terrace of Overland Park, Overland Park, Kansas, at the age of 88 years, 3months and 1 day.
She was the only child of John Christopher and Eleanor Teresa (Hueben) Heimburger.
Arlene spent her lifetime in Wyandotte County, Kansas, graduating from Wyandotte High School in 1949. After graduation, she worked as a switchboard operator for Swift and Company until her marriage. On December 23, 1950, Arlene was united in marriage with Glenn Edward Gebaur, at the home of her parents in Kansas City, Kansas. After their marriage, Arlene became the bookkeeper for her husband's business, Glenn's Sign Service, and a full-time homemaker. Later in life, she took a position as a sales associate with Roger's Corner Plaza Convenience Store.
Arlene was a loving mother who was very involved in the lives of her children. She was their best friend and known to all their friends as "Mom". She always went out of her way to help anyone in need. She served as chauffer for her children and all their friends, taking them to the pool every summer before they could drive.
Arlene was an avid "Holiday Decorator", always decorating her front window for whatever holiday was coming up next. She loved to shop, and had a whole room, affectionately known as "the gift room". Anytime her children needed a gift for someone they would go through the "gift room" first to see what goodies she had there. Later, when the grandchildren came along, she would mail huge white boxes full of gifts to the ones who lived out of town for their birthdays and other special occasions.
In her younger years, Arlene belonged to a late-night talk radio group called "The Night People". She attended functions and met many dear and life-long friends through this association.
Arlene was an avid collector of pig figurines, records, books and, any and all things. She enjoyed playing the Kansas Lottery and going to the casino with her husband, son and daughter-in-law for lunch and gambling. She looked forward, with great anticipation, to her yearly outing at the Renaissance Festival and always came home with a new Renfest t-shirt and a new dragon figurine. Over the years, she also enjoyed many great lunches with her classmates from elementary school.
Arlene was a lifelong member of the First Baptist Church of Kansas City Kansas.
Arlene's top passion was reading books and listening to music of all kinds. The Statler Brothers and Willie Nelson were among her favorites. She was an animal advocate who took in all the stray dogs and cats in the neighborhood and loved them dearly.
Arlene loved spending time with her children and grandchildren. She especially enjoyed the holiday and family parties. Arlene had a gift of making everyone she came in contact with feel special and loved. She was also known to be a little ornery, and, her family wants everyone to know she kept her sense of humor with great "come backs" right to the end. Our lives are better for knowing and loving her, and lonelier without her.
Arlene was preceded in death by her husband, Glenn Edward Gebaur; her parents, John and Eleanor Heimburger; her son, Glenn "Skeeter" Gebaur, Jr. and her daughter-in-law, Terrie Lynn Gebaur.
She is survived by two daughters, Linda (Gebaur) Ashley of Topeka, Kansas and Ann (Gebaur) Wissman and husband Bob of Kansas City, Kansas; "daughter of the heart", Stacey Guiheen-Wilson; five grandchildren, eight great-grandchildren, one great-great grandchild, nieces, nephews, cousins, other relatives and many friends.
Cremation was accorded. A Celebration of Life Service will be held at 10:00 a.m. Saturday, September 12, 2020 at the Wallace Funeral Home in Pleasant Hill, Missouri with Rev. Tim Casteel officiating. Inurnment will immediately follow at the Pleasant Hill Cemetery.
The family suggest contributions to The Humane Society of Greater Kansas City, 5445 Parallel Pkwy, Kansas City, Kansas 66104