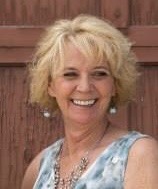 Anita "Nita" Routon was born September 17, 1960 in Kansas City, Missouri and departed this life on March 7, 2019, at her home in Pleasant Hill.
Anita spent most of her life in Pleasant Hill, graduating from Pleasant Hill High School in 1978.
On December 17, 1999, she was united in marriage with Larry L. Routon, in Jackson County, Missouri, and they made their home in Pleasant Hill.
Until declining health forced her retirement, Anita ran a daycare in her home for nearly 40 years, where she cared for and loved many children in the Pleasant Hill area.
Anita enjoyed playing bingo and shopping, but her true passion in life was getting to watch her "Babies" dance and being involved with Eva Moore's Performing Arts Center. She dedicated much time and attention to the studio and the Bright Futures program.
Anita is survived by her husband, Larry L. Routon of the home; one son, Michael Richardson of Pleasant Hill, Missouri; two daughters, Toni Manford and husband Matt of Pleasant Hill, Missouri, and Lacy Richardson of Harrisonville, Missouri; four sisters, Vali Hanson and husband Nels of Adrian, Missouri, Mona Foster of Linn Valley, Kansas, Sandra Ratzlaff and husband Lanny of Burlington, Kansas, and Peggy Wiseman and husband Chris of Joplin, Missouri; twelve grandchildren, Jack, Jenna, Jude, Matti Jo, Tripp, Dawson, Mason, Keidyn, Madalynne, Chevy, Miles, and Hunter, many loved nieces and nephews, and great-nieces and great-nephews, and her dearest friends Becky and Jay Walker.
Per Anita's wishes, cremation has been accorded and family and friends are invited to visit her home on Sunday, March 24th, from 2-5pm, to celebrate her life.
In Memory of Anita Routon, the family suggests contributions to: Bright Futures c/o Pleasant Hill School District, 318 Cedar Street, Pleasant Hill, MO 64080.