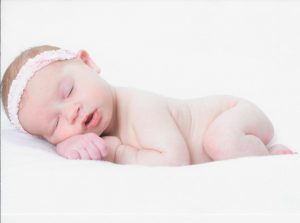 Zoey Maddison Derr of Blue Springs, Missouri, infant daughter of Jeff R. and Kasi J. (Copenhaver) Derr, was born March 27, 2015 at St. Luke's East Medical Center in Lee's Summit, Missouri and departed this life suddenly on July 15, 2015 while on a family vacation with her parents and brother in Scottsbluff Nebraska, at the age of 3 months and 18 days.
Zoey was a beautiful, happy baby who brought joy not only to her family but all those fortunate enough to know her. Zoey, along with her family attended Timothy Lutheran Church (South Branch) in Blue Springs, Missouri.
She was preceded in death by her paternal grandfather, Robert L. Derr.
Zoey is survived by her parents, Jeff R. and Kasi J. (Copenhaver) Derr and one brother, Jackson Matthew Derr all of the home; paternal grandmother, Barbara Derr of Douglas, Wyoming; maternal grandmother, Debra Quinn of Oak Grove, Missouri; maternal grandfather, Keith Nichols and maternal great grandparents, Jack and Hazel Quinn, all of Blue Springs, Missouri; four aunts, Cindy Fonger of Torrington, Wyoming; Connie (Derr) Little and Carol Stevens both of Helena, Montana and Meg Shuger of Colorado Springs, Colorado; other relatives and many, many friends.
Funeral Services for Zoey Maddison Derr will be 10:00 a.m. Saturday, July 25, 2015 at the Wallace Funeral Home in Pleasant Hill, Missouri with Pastor Richard Steensma officiating.
Casket Bearers will be Bryan Aber and Gary Barker.
Burial will be in the Pleasant Hill Cemetery. The family will receive friends from 6:00 – 8:00 p.m. Friday, July 24, 2015 at the funeral home.
Contributions in memory of Zoey, may be made to Jeff and Kasi Derr.