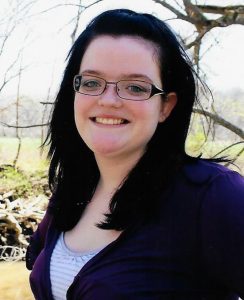 Samantha Elizabeth Stout was born March 11, 1994 in Nevada, Missouri and departed this life on June 18, 2015 at I-70 Medical Center, Sweet Springs, Missouri as the result of a tragic automobile accident. She was the daughter of Johnny E. and Roberta (Garner) Stout, Sr.
Samantha spent most of her lifetime in Pleasant Hill and was a 2012 graduate of Pleasant Hill High School. She was a Certified Nursing Assistant employed by Pleasant Hill Health and Rehabilitation Center in Pleasant Hill.
Samantha was a beautiful young woman with a kind and compassionate nature. She had a great sense of humor and an infectious smile, which made her a favorite, not only with family and friends, but with her clients and co-workers at the health and rehabilitation center.
Samantha was preceded in death by her paternal grandmother, Ladeana Ghan and her maternal grandparents, Robert and Carlyn Garner.
Those left to cherish her memory are her parents, Johnny E. and Roberta (Garner) Stout, Sr.; one brother, Johnny Stout, Jr. and one sister, Carly Stout, all of the home; her paternal grandfather, Charles Stout and wife Carla of Independence; several beloved aunts, uncles and cousins, other relatives and many, many friends.
Funeral Service for Samantha Elizabeth Stout will be 2:00 p.m. Tuesday, June 23, 2015 at the Wallace Funeral Home in Pleasant Hill with Pastor Chris Crane officiating. Casket Bearers will be Allan Terry, Josh Casey, Brandon Casey, Matt McGlothlin, Michael Betts and Jessie Miller. Burial will be in the Pleasant Hill Cemetery. The family will receive friends from 7:00 p.m. until 9:00 p.m. on Monday. June 22, 2015, at the funeral home.2015
Contribution "In Memory of Samantha" may be made to Pleasant Hill Health and Rehabilitation Center and left at the funeral home.