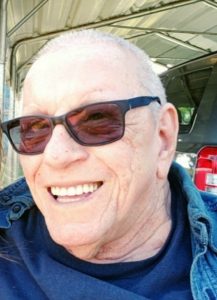 Robert Leon Pasley was born June 19, 1940 in Tulsa County, Oklahoma and departed this life on April 13, 2020 at Lee's Summit Medical Center, Lee's Summit, Missouri at the age of 79 years, 10 months and 25 days.
He was the son of Samuel Thomas and Zelma Pauline (Miser) Pasley.
Robert spent his younger years and attended school in Glenpool, Oklahoma. He worked several places during his younger years in Oklahoma, including B & B Auto Park in Tulsa, Oklahoma, where he served as a parking lot attendant. Later he worked for several sheet metal fabrication shops, retiring from I.C.F. Industries with 20 years of service.
On January 9, 1995, Robert was united in marriage with Jean Marie Sevart in Las Vegas, Nevada. Robert and Jean lived in Independence, Missouri until 2007 when they moved to Pleasant Hill, Missouri to make their home.
Robert enjoyed woodworking, and before his health declined, Robert loved to go camping.
Robert was a loving and devoted husband, father, grandfather and brother. He took great pride in his family and their accomplishments.
Robert was preceded in death by his parents, Samuel and Zelma (Miser) Pasley; one son, Robert Dale Pasley and two brothers, Devon Thomas Pasley and James Leslie Pasley.
He is survived by his wife, Jean Marie Pasley of the home; one son, Samuel Paul Pasley and wife Donna of Tampa, Florida; one daughter, Carol Ursula Pasley of Locust Grove, Oklahoma; one step-son, Donald Craig Haynes of Pleasant Hill, Missouri; two sisters, Linda Paul of Glenpool, Oklahoma and Jean Ann Seachris of Paden, Oklahoma; twelve grandchildren, twenty two great grandchildren, one great-great granddaughter, other relatives and many friends.
Cremation has been accorded and no services are scheduled.