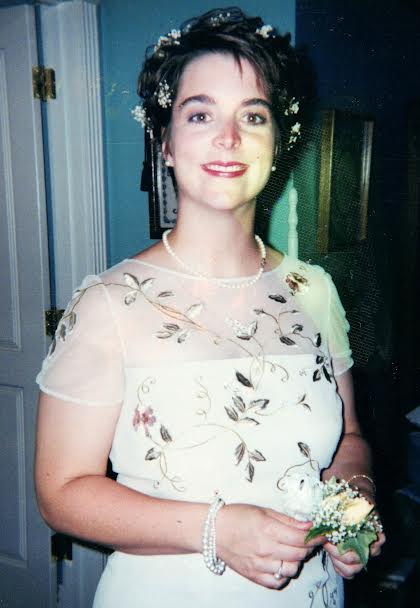 RHANA LEE (Reid) CASTLE
Rhana Reid Castle, 52, of Pleasant Hill, Missouri found eternal rest after a brave battle with ovarian cancer on July 29, 2022.
Rhana Lee Reid was born on June 11, 1970, growing up in the communities of Springfield and Pleasant Hope, Missouri. She inherited her mother's love of the arts, enjoying music and creating beauty. 
After her graduation from Pleasant Hope High School in 1988, Rhana attended Drury College in Springfield. Rhana was a proud member of the Kappa Delta Sorority. While in college she studied a semester abroad in England, fancying historic architecture, grand museums, and fascinating new people. Her studies and passion accumulated into a degree focusing on Studio Art, Communication, and Visual Communication. 
She quickly dove into her work, creating connections at Bass Pro, Branson Daily News and Expansion Management magazine. Her career challenged her to take the chaos out of large amounts of data and design the finished product with visual appeal. Rhana was so talented in this avenue that she received numerous awards throughout her life.
In the summer of 1995, she took notice of coworker Charlie Castle at the Branson Daily News. They had their first real date to see the movie, "Money Train". They both agreed the movie was below average but the romance was sparked. The couple tied the knot in an exclusive ceremony in Eureka Springs, Arkansas in June of 2000.
They spent their early years living in Raymore, Missouri before moving to Pleasant Hill in 2013. Rhana settled into their new neighborhood by being an active contributor to Hunter's Ridge Subdivision by planning family activities and helping the board. She also liked working on home improvement projects and watching movies. She delighted in traveling all over the United States to see the sights and indulging Charlie in seeing the local Major League Baseball teams. 
Between this busy schedule Rhana shared her love of the Bible Study Fellowship community. She was involved with teaching small children through high school students; Rhana rejoiced with her community her trust in journeying with God, even on the darkest days of her cancer battle.
Rhana always looked forward to spending the holidays with family. Her most treasured memories revolved around her Ava and Marshall families celebrating Christmas. She doted on her nieces and nephews and loved spending time with her cousins. 
Most of all, Rhana will be admired for her selfless spirit. She cultivated a passion for animals since childhood, with Wonder Dog being her first pet. Karmin and Tobi were the first adored dogs of the Castle home, receiving a bounty of affection and treats from the kitchen. Ginger, Sherlock, and Lola later joined the family. Rhana also opened the home to foster dogs throughout the years, providing comfort and love in their rescue. 
We will miss Rhana's beautiful smile, her willingness to listen and care about others above herself and her endurance through the most challenging times of life.
Preceding Rhana in death includes her mother, Beverly "Bevy Jane" Reid, grandparents Russell and Bonnie Reid, aunt Patricia Reid, beloved great aunt Jeanette Jones and her father-and-mother-in-law, Fred and Zara Castle.
Rhana will be dearly missed by all her loving friends and family. Survivors include husband Charlie Castle of Pleasant Hill; aunts and uncles: Lonnie and Susan Reid of Vacaville, CA; James and Donna Reid of St. Louis; Randy Reid of Hilton Head, SC; Kathy Reid of Mora, MN; Kirk and Jessika Reid of Hilton Head, SC. Cousins on the Reid side include: Anna Crane of Springfield; Julie Crane Wright of Greenwood Springs, CO; Marcus Overcast of Miami, FL; Ryan Shaffer of Ely, MN: Molly Reid of St. Louis; Casey Reid of Labadie, MO; Anna Reid Clarke of San Diego and Austen Reid of Atlanta. Siblings-in-law include: Kay Disselhoff and husband Dennis of Kansas City; Karla Simpson and husband John of Marshall, and Ken Castle and wife Brenda of Marshall. Her nieces, nephews, and greats are: Abby Bozarth and husband Jeremiah with sons Hudson and Colton; Bill Disselhoff and wife Lauren with children Drew, Kimber, and Benson; Katie Disselhoff; Christian Castle; Jenna Pickard and husband Connor with daughter Emmy; Skylar Simpson and husband Amit Jain; Kendra Rolf and husband Hunter; and Savannah Torrey and husband John. 
Visitation will be at 1 pm on Friday, August 5 followed by Memorial service at 2 pm at Wallace Funeral Home, 422 North Lake Street, Pleasant Hill, Missouri, with Chaplain Jeff Stegner officiating. Casket Bearers will be Jerry Blencoe, Tim Carroll, Christian Castle, Ken Castle, Paul Farmer, and John Simpson.
Burial will be Saturday, August 6 at 10:30 am in Ridge Park Cemetery in Marshall, Missouri.  
To celebrate Rhana's life, faith, and generosity donations can be made in her honor to Basset and Beagle Rescue of the Heartland or Ovarian Cancer Research Alliance.  
May we all emulate the beauty that Rhana shined brightly into this world.