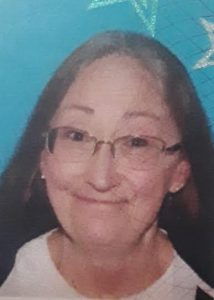 Patricia Ann (Mispagel) Smith was born April 7, 1959 in Salina, Kansas and departed this life, unexpectedly, on December 6, 2019 at Lee's Summit Medical Center in Lee's Summit, Missouri at the age of 60 years, 7 months and 29 days.
She was the daughter of Paul Anthony and Lavina Celina (Newell) Mispagel.
Patricia spent her younger years in the Salina, Kansas area and graduated from Salina South High School in 1977. At the time of her graduation, Patricia was awarded her Nurses Aide Certificate which she earned while still in high school.
On June 24, 1989, Patricia was united in marriage with Bruce Carlton Smith and to this union three children, Eli, Kassidy and Maci were born. The Smith family made their home in Pleasant Hill, Missouri.
Patricia was a "stay at home mom" for several years, but after her children were in school, Patricia went back to work. She worked several places throughout her lifetime, her longest employment however was as bartender at the Pleasant Hill Pool Hall where she was affectionately known to the patrons as "Pool Hall Patty". Patricia retired in 2014.
After her retirement, Patricia moved to Holden, Missouri and was still residing there at the time of her death.
Patricia was preceded in death by her parents, Paul and Lavina Mispagel, and an infant brother, Jude Mispagel.
She is survived by her husband, Bruce Carlton Smith of Pleasant Hill, Missouri; one son, Eli Smith of Pensacola, Florida; two daughters, Kassidy Smith of Lee's Summit, Missouri and Maci Smith of the home; two brothers, Greg Mispagel of Overland Park, Kansas, and Jeff Mispagel and wife Karen also of Overland Park, Kansas; nieces, nephews, other relatives and many, many friends.
Cremation has been accorded. The family of Patricia Ann (Mispagel) Smith will receive friends on Saturday, January 4, 2020 from 1:00 – 2:00 p.m. at the Wallace Funeral Home in Pleasant Hill. A Memorial Service will immediately follow at 2:00 p.m. with Pastor Michael McNew officiating.