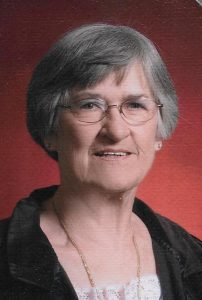 Mildred Hazel "Bubbles" (Wright) Quinn was born April 30, 1931 in Selah, Washington and departed this life on April 2, 2017 at her home in Blue Springs, Missouri, surrounded by the love of her family, at the age of 85 years, 11 months and 3 days.
She was the daughter of James Herbert and Mildred Hazel (Prewitt) Wright.
Hazel was a 1949 graduate of Pleasant Hill High School. On July 3, 1950 she was united in marriage with Jackie Lee "Jack" Quinn and they made their home in Pleasant Hill until 1960 when they moved to Blue Springs, Missouri.
Hazel had worked for the Blue Springs School District as a bus monitor for behavioral children, retiring in 2007. Prior to working for the Blue Springs School District, she had worked at Western Electric and Lake City.
Hazel was a long time member of the United Methodist Church of Blue Springs, Missouri and a former member of the Rebekah Lodge of Blue Springs.
Hazel was preceded in death by her parents, James and Mildred (Prewitt) Wright; one great-granddaughter, Zoey Maddison Derr; five brothers, Jerry, Dale, Lloyd, Robbie and Michael Wright and one sister, Jean (Wright) Green.
She is survived by her husband, Jack Lee Quinn of the home; one son, Larry Clint Quinn and wife Michelle Marie of Independence, Missouri; two daughters, Debra Lea Quinn of Oak Grove, Missouri, and Linda Jo Aber and husband Merl Richard of Independence, Missouri; one brother, Ralph "Butch" Wright of Adrian, Missouri; three sisters, Barbara Clawson and husband Bill of Pleasant Hill, Missouri, Mary Samantha Johnson and husband Gary of California, and Judy Todd and husband Mike of Harrisonville, Missouri; grandchildren, Kasi Derr, Nicholas Quinn, Kristin Conner, Amy Aber, Bryan Aber and Jessica Rogers; seven great-grandchildren, nieces, nephews, other relatives and many, many friends.
Funeral Service for Hazel "Bubbles" Quinn will be held at 11:00 a.m. Friday, April 7, 2017 at the Wallace Funeral Home in Pleasant Hill, Missouri with Rev. Jan Bond officiating. Casket Bearers will be Jimmy Quinn, Jeremy Quinn, Brandon Quinn, Nicholas Quinn, Kevin Wright and Steve Wright.
Burial will be in the Pleasant Hill Cemetery. The family of Hazel "Bubbles" Quinn will receive friends from 5 – 7 p.m. Thursday, April 6, 2017 at the funeral home.