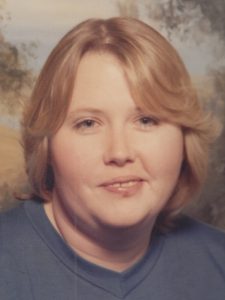 Karen Kay (Searcy) Bergmann, of Pleasant Hill, Missouri, was born July 30, 1958 in Lee's Summit, Missouri and departed this life on October 18, 2019, surrounded by the love of her family and friends, at the family farm in Greenwood, Missouri, at the age of 61 years, 2 months and 18 days.
She was the daughter of Danny Dean and Dorothy Rae Searcy.
Karen spent her younger years in Lee's Summit, Missouri where she graduated from Lee's Summit High School in 1977.
On August 29, 1980, Karen was united in marriage with William Gary "Bill" Bergmann at the First Baptist Church in Pleasant Hill, Missouri. Karen and Bill lived in Pleasant Hill for a year after their marriage before moving to Lee's Summit where they lived for three years. In 1984 they moved back to Pleasant Hill to make their permanent home.
Karen worked several jobs throughout her lifetime, including holding the position of auditor/analyst with the Sprint Corporation.
Karen was a loving, devoted and caring daughter, wife, sister, aunt and friend. She was fiercely loyal to those she loved and was always available to anyone who needed her. Karen and Bill's house was "the go to place" for nieces and nephews to spend holidays and summer vacations. Karen delighted in entertaining them and providing adventures and activities she knew they would enjoy and remember throughout their lifetime.
 In her spare time Karen belonged to a Texas Hold'em Club and thoroughly enjoyed the game. She also enjoyed her trips to the boat.
Karen was a member of the First Baptist Church of Pleasant Hill. She also belonged to the Cass County Chapter of ABWA.
Karen was preceded in death by her father and step-mother, Danny and Joyce Searcy, and her mother and step-father, Dorothy and Gene Thompson.
She is survived by her husband, William Gary "Bill" Bergmann of the home; her mother-in-law, Janice Bergmann of Pleasant Hill, Missouri; her brother, Bryan Dean Searcy of Butler, Missouri; her sister, Lori McCoy and husband Jim of Lee's Summit, Missouri; numerous nieces and nephews, other relatives and many, many friends.
The family of Karen Kay (Searcy) Bergmann will receive friends from 11:00 a.m. until 1:00 p.m. Friday, October 25, 2019 at the Wallace Funeral Home in Pleasant Hill. Funeral Service will immediately follow at 1:00 p.m. with Pastor J. C. Beckner officiating. Casket Bearers will be Michael Burke, Jeffery Burke, Jacob Stroud, Michael McCoy, Jacob McCoy, Denny Searcy, Nathan Searcy, and Jonathon Harris. Interment will be in Floral Hills East Cemetery, Lee's Summit, Missouri.