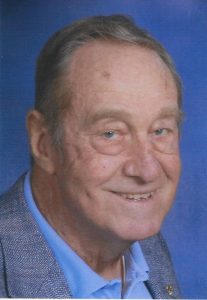 John Anthony Grimm was born August 7, 1931 in Geddes, South Dakota and departed this life on August 8, 2015 at Lee's Summit Medical Center in Lee's Summit, Missouri at the age of 84 years and 1 day.
He was the son of Joseph and Ida (Tobin) Grimm, both of whom preceded John in death.
When John was in fourth grade, the Grimm family left South Dakota and moved to Pierce City, Missouri and then to Joplin, Missouri in 1948. John graduated from St. Peters High School in Joplin in 1949. Immediately following his high school graduation, John joined the United States Air Force and proudly served his country from June 21, 1949 until December 10, 1952, during the Korean Conflict.
On September 3, 1955 John was united in marriage with Mary Alice Jurgensmeyer in Montrose, Missouri. In conjunction with John's work in the aircraft business, he and Mary Alice made their home in several places during the early years of their marriage, including Marietta, Georgia, Wichita, Kansas, Neosho and Raytown, Missouri. In 1970 the Grimm family moved to Pleasant Hill.
In 1988, John retired from A T & T Technology as a Production Line Supervisor.
John was a member of St. Bridget Catholic Church of Pleasant Hill, Missouri. He was a lifetime member of the Knights of Columbus, a Knights of Columbus Fourth Degree and a past Grand Knight.
John loved to play golf and was very proud that he had made 11 hole-in-one during his lifetime.
In addition to his parents, Joseph and Ida Grimm, John was preceded in death by one brother, Robert Grimm and one sister, Donna Mae Grimm.
He is survived by his wife, Mary Alice Grimm of the home; two sons, Michael J. Grimm and wife Sharon of Loveland, Colorado and David A. Grimm of Holden, Missouri; four daughters, Karen Stigura of Milner, Georgia, Teresa Schaefer and husband Jim , and Nancy M. Bouchard and husband Rick, all of Pleasant Hill, Missouri, and Beth Willis and husband Brad of Greentown, Indiana; two brothers, George B. Grimm of Joplin, Missouri and James Grimm of Milwaukee, Wisconsin; two sisters, Mary Lyons of Raytown, Missouri and Patricia Hutchens of Grandview, Missouri; sixteen grandchildren, eight great grandchildren; many nieces and nephews, other relatives and many, many friends.
Mass of Christian Burial will be at 10:00 a.m. Wednesday, August 12, 2015 at St. Bridget Catholic Church in Pleasant Hill, Missouri with Monsignor Robert Murphy Officiating. Casket Bearers will be Jonathan Grimm, Nathaniel Grimm, Joe Bouchard, Adam Willis, Jacob Schaefer and Thomas Schaefer. Honorary Bearers are Nicholas Stigura, Phillip Stigura, Gregory Stigura and Tony Wood. Burial with Military Honors will immediately follow at the Pleasant Hill Cemetery. Military Honors will be provided by the United States Air Force and V.F.W. Post #3118 Honors Team of Pleasant Hill, Missouri.
Rosary Recitation will be at 6:00 p.m. Tuesday, August 11, 2015 with the family receiving friends immediately following from 6:30 until 8:00 P.M., all at the Wallace Funeral Home in Pleasant Hill, Missouri.
In memory of John Anthony Grimm the family suggests contributions to St. Bridget Catholic Church.