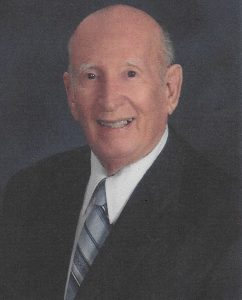 Ivan Slaughter Jr. was born in Bethany, Missouri, to Ivan Slaughter Sr. and Jo Dorothy (Squires) Slaughter on February 12th, 1921.  The young couple had just graduated from The University of Missouri and bought equipment and a farm with an enormous mortgage.  Within a few years, they had lost everything and moved to Columbia, MO, where Ivan Sr. got his master's degree.  From there they moved to Eldon, MO where he was a county extension agent.  They had two more boys (Frank and Joe) and a much younger daughter (Dorothy Joann).  Farming was in a state of turmoil during those years and they moved up the scale, from job to job.  The family focus was to collect enough livestock and machinery to make a new start.
Ivan Jr. went to twelve schools in twelve years, graduating from Greenwood High School in 1940.  He had a partial scholarship to MU and went there until 1943, when he was taken from the Army Reserves to active duty.  After Officer's Candidate School, he and Margery Hablutezel were married.  The young couple moved ten times until he was discharged as a first lieutenant liaison pilot in 1946.  They then moved to the farm they lived on for all of their married life.
Ivan started teaching in Pleasant Hill schools, then transferred to Lee's Summit.  He continued teaching while farming on evenings and weekends for thirty years before retiring as a teacher, and maintained a working farm until his last days.
Ivan spent his limited free time as a 4-H leader, FFA advisor, and ecology club leader.  He eagerly shared his knowledge with all:  family, friends, and students.  He loved to read, fish and hunt, especially coon hunt, and had some excellent dogs.
He and Margery continued their legacy with five children:  Stan Slaughter (Linda);  Bill Slaughter (Susan); John Slaughter (Sarah); Ella Hackney (Ed); and Mark Slaughter (Paula).  They had seven grandchildren and sixteen great-grandchildren.  Ivan and Margery treasured their time with family and were exceptionally proud of all of their achievements.
Ivan was a lifelong observer of both human and animal behavior – both wild and domesticated.  He used a unique humor and spirit to bring love and knowledge.  We as his family will miss our father but are comforted to know that his legacy will "carry on!".
Ivan was preceded in death by his wife, Margery M. (Habluetzel) Slaughter; his parents, Ivan and Jo Dorothy Slaughter and two brothers, Joe Slaughter and Frank Slaughter.
He is survived by four sons, Stan Slaughter and wife Linda Chubbuck of Lee's Summit, Missouri, Bill Slaughter and wife Susan of Skidmore, Missouri, John Slaughter and wife Sarah of Clovis, California and Mark Slaughter and wife Paula of Marshfield, Missouri; one daughter, Ella Hackney and husband Ed of Greenwood, Missouri; one sister, Joann Kennedy of Liberal, Missouri; Seven grandchildren, Sixteen great grandchildren, other relatives and many friends.
Cremation has been accorded. Services will be held at a later date.