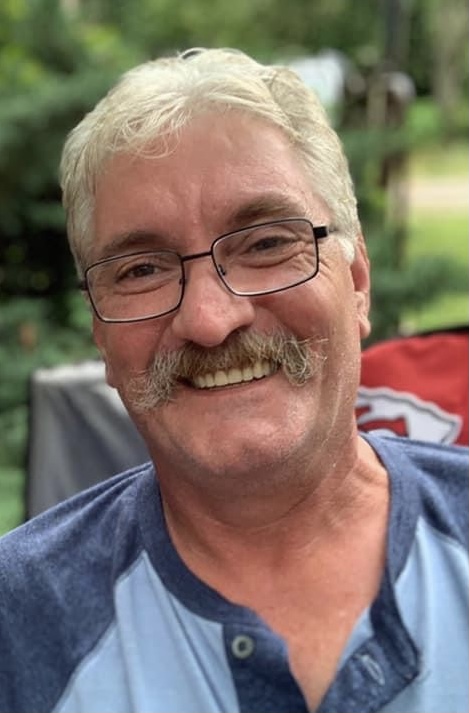 Clark Patrick Reynolds was born March 21, 1967 in Harrisonville, Missouri and departed this life on November 24, 2021 at his home in Pleasant Hill, Missouri at the age of 54 years, 8 months and 3 days.
He was the son of C. L. "Jake" and Rayma Louise (Spurlock) Reynolds.
Clark spent most of his life in Pleasant Hill, Missouri, graduating from Pleasant Hill High school in 1985. After graduation he went to work at Mr. LongArm, Inc. in Greenwood, Missouri. Clark worked for Mr. LongArm for 15 years before taking a position with Fike Corporation in Blue Springs, Missouri, where he had worked for over 25 years and was still employed there at the time of his death.
Clark was a lifelong member of the First Christian Church of Pleasant Hill, Missouri.
Clark had a magnetic and fun-loving personality that just naturally drew people to him. He never knew a stranger and was always ready with a quick joke or story to entertain those around him. Clark loved to sing, and was a talented painter, gifting many of his family and friends with his original works of art. Clark had an extensive collection of Star Wars and Star Trek memorabilia and kept his collection in what he jokingly named the "Nerd Room". He also enjoyed collecting anything that had to do with Marvel or D C Comics.
Above all else, Clark was a true family man. He was an amazing father, papa, brother and uncle. He loved spending time with his family and was always available if any of them were in need.
Clark was preceded in death by his parents, C. L. "Jake" and Rayma Reynolds; brother, David Reynolds and sister, Becky Rainwater.
He is survived by his daughter, Amber Reynolds of Pleasant Hill, Missouri; his son, Thomas  Reynolds of Kansas City, Missouri; one brother, Rev. Tony Reynolds and wife Ruth of Appleton City, Missouri; sisters, Sandy Reynolds and Deb Grimm of Webb City, Missouri, Beth Metoyer and husband Rodney of Missouri City, Texas, Tommi Reynolds of Butler, Missouri, and Jennifer Sharp of Kingsville, Missouri;  brother-in-law, Rob Sharp of Kingsville, Missouri; six grandchildren; many loving nieces, nephews, other relatives and many, many friends.
Per Clark's wishes, cremation has been accorded.
The family of Clark Patrick Reynolds will receive friends from 3:00 – 4:00 p.m. Friday, December 3, 2021 at the Wallace Funeral Home in Pleasant Hill. A Memorial Service will immediately follow at 4:00 p.m. at the funeral home with Rev. Kent Deubner officiating.