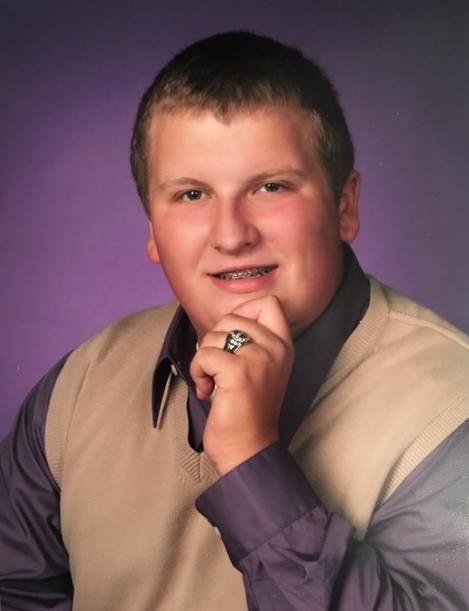 Brendon Wayne Bolden, 29, of Pleasant Hill, Missouri, passed away Saturday, 11/6/21, after a 5 week battle with Covid 19. His mother, Susan Seymour, was by his side when he drifted away to be with the Lord.
Brendon was born on August 24, 1992 to Gary Bolden and Susan Seymour in Wichita Falls, Texas. When he was a toddler, they moved to Colorado where he developed his love for the great outdoors. Later they moved to Lee's Summit, Missouri where he joined the world of Scouting. In 2008, his family settled in Pleasant Hill, Missouri and Brendon was closest to the things he loved most – agriculture, tractors and big rigs, country girls and pickup trucks.
While in high school, Brendon was also earning the highest level of Boy Scouts, his Eagle rank. He was awarded this honor in June 2010, at the age of 17. During his Scouting career, Brendon also achieved his Arrow of Light (Cub Scouts Highest Honor), was inducted into the Order of the Arrow Brotherhood, and the Tribe of Mic-O-Say. As a Hard-Way Warrior in the tribe, Brendon achieved the paint rank of "Runner" under his tribal name of "Tall Coyote".
After graduating from Pleasant Hill High School in 2010, he studied Crisis and Disaster Management at the University of Central Missouri. Brendon also spent a few semesters at MCC-Longview College in Lee's Summit.
Brendon worked at many retail jobs during and after high school including several years with QuikTrip where he advanced to Assistant Manager. He also worked for Shuttlewagon in Kansas City. Brendon also had his own commercial hauling business for a few years delivering tractor and farm implements for various dealers.
Brendon recently started as a truck driver for Liquid Trucking, based out of Omaha, Nebraska. This was his 'Dream Job' as he had recently told his mom and dad. As a child, he fell in love with his grandfather's truck and knew when he grew up, he wanted his own rig.
Anyone that knew Brendon, knew this boy's heart was made of gold. He loved his son and his family fiercely. He lived the Boy Scout Oath in his daily life:
On my honor I will do my best to do my duty to God and my country and to obey the Scout Law; to help other people at all times; to keep myself physically strong, mentally awake, and morally straight.
Brendon leaves behind a heartbroken family; his wife, Alex and a son, Ryder Cole; his mother, Susan Seymour and stepdad, Mike Seymour; his father, Gary Bolden, and stepmom Cinnamon; his brothers Garrett, Ryan and Burke and sister, Rylee, his paternal grandparents, Donna and Dan O'Rourke and grandfather Bob Bolden. He is proceeded in death in by his maternal grandparents, Melba and Joe Kennedy. He also leaves behind numerous aunts, uncles, cousins, and friends.
Visitation will be from 5-7:00PM on Friday, November 12th, 2021, with Funeral Services scheduled at 11:00 AM this Saturday, November 13th, 2021 – both at Wallace Funeral Home of Pleasant Hill, Missouri. Graveside service and internment will follow at Pleasant Hill Cemetery.
In Memory of Brendon Wayne Bolden, contributions may be made to the following and may be mailed direct or left at the funeral home:
Boy Scouts of America
Heart of America Council (HOAC)
10210 Holmes Road
Kansas City, Missouri 64131
Attn: Endowment Fund – In Memory of Brendon Bolden