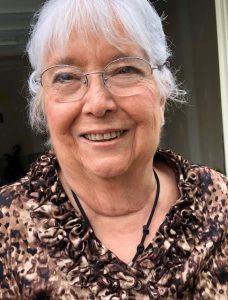 Ruth May (Larssen) Chapman was born December 20, 1937 in Newkirk, Oklahoma and departed this life on September 23, 2018 at St. Luke's Hospital in Kansas City, Missouri at the age of 80 years, 9 months and 3 days.
She was the daughter of Elmo and Francis (Skaggs) Larssen.
Ruth grew up in Newkirk, Oklahoma and attended Newkirk High School. She was united in marriage with her high school sweetheart, Victor Lee Chapman, and to this union three children, Eldon, Johanna and Beverly were born.
The Chapman's lived several places after their marriage, finally settling in Missouri in the early 1960's. Later, Ruth returned to Newkirk, Oklahoma to care for her aging parents. Ruth continued to live in Newkirk until 18 months ago, when she moved to Pleasant Hill to make her home with her daughter and son-in-law, Beverly and Matt Moore.
Ruth was a full time homemaker for most of her life. Later in life, she took a position with Walmart where she worked for 15 years before her retirement.
Ruth loved to sew, and when her children were young she made all their clothes. She also loved to work in her garden, raise flowers and cook for her family. When she couldn't be outside she liked to occupy her time coloring.
Ruth was a devoted and loving mother, grandmother and great grandmother. She was the happiest when surrounded by the ones she loved, and that included her faithful dog companions.
Ruth was preceded in death by her parents, Elmo and Francis (Skaggs) Larssen; two brothers and one sister.
She is survived by her son, Eldon Lee Chapman of Lompoc, California; two daughters, Johanna May Chapman of Bradenton, Florida, and Beverly Moore and husband Matt of Pleasant Hill, Missouri; six grandchildren, Shane Sizer and wife Brianna, Ian Sizer, Sullivan Sizer, Cameron Sizer, Derek Chapman, and Drew Chapman and wife Erin; Four Great Grandchildren, other relatives and many friends.
Memorial Service for Ruth May (Larssen) Chapman will be held at 3:00 p.m. Thursday, September 27, 2018 at the Wallace Funeral Home in Pleasant Hill, Missouri with Rev. Tim Casteel officiating. Inurnment will be held in Newkirk, Oklahoma at a later date.