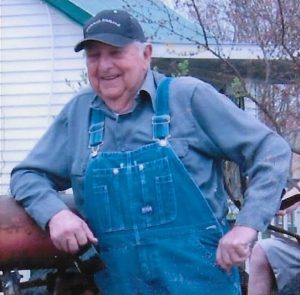 Russell Carl Parris, 97, departed this life at his home surrounded by his loving family on September 29, 2019.  He was a life-long resident of Pleasant Hill except during his service in World War II.
The funeral service will be held at 1:00 p.m. Thursday, October 3, 2019 at the Wallace Funeral Home in Pleasant Hill with Pastor Mark Conway officiating. Casket Bearers will be Brian Parris, Russell Wayne Parris, Ryan Parris, Jake Lanier, Keith Higgs and Logan Rapp. Honorary Bearers are Glover Springer, Harry Lee Yoder, Russell Joe Martin, Rex Riggs, John Goodwin and Steve Yoder. The family will receive friends from 11:00 a.m. until 1:00 p.m. on Thursday at the funeral home. Burial will be in the Pleasant Hill Cemetery.  Contributions in memory of Russell may be made to Pleasant Hill High School for the Pleasant Hill FFA program. Please note FFA Program in memory of Russell Parris in the memo line.
Russell was born to Lester and Elizabeth (Kelly) Parris on May 27, 1922 in Pleasant Hill, Missouri on the family farm.  Russell attended the Wingate School for grades 1-8.  His commute to high school was five miles each way and sometimes he was lucky enough to take a horse part way but usually he just walked.  He was a charter member of the FFA and graduated from Pleasant Hill High School in 1940.
After high school Russell moved to California where he worked at a steel supply company then as a welder in a shipyard.  In October, 1942, he joined the Merchant Marines to serve in World War II.  Russell served first in the Atlantic, sailing many times from the east coast to Venezuela and on to the Middle East.  From 1944-1948 he was sailing the Pacific from the west coast to Australia and Japan.  He sailed around the world twice and was in Hiroshima two weeks after the atomic bomb was dropped.
After leaving the Merchant Marines he came home to Pleasant Hill and started working with his two brothers-in-law hauling freight in the midwest.  In 1951 he started farming full-time with his dad on the family farm.
On October 25, 1953 he married Juanita Bowers whom he had met 8 years before on a blind date.  He thought she was too young at the time, but after the war they reunited.  Following their honeymoon they moved into the home where they lived and farmed for the rest of their lives. During his farming career Russell was an active member and leader of various agricultural organizations.
Juanita preceded him in death in 2005.  He is survived by Ronnie (Jackie), Mike (Cindy), David (Jeanie) of Pleasant Hill, and Gayle Lanier (Tim) of Colorado.  Also surviving are 11 grandchildren and 9 great-grandchildren.