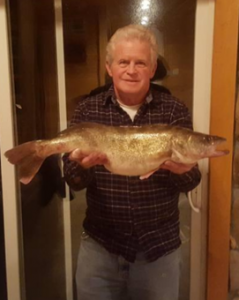 Ronald Lee "Ron" McCale was born October 26, 1944 in Kansas City, Missouri and departed this life on March 11, 2021 at Centerpoint Medical Center in Independence, Missouri at the age of 76 years 4 months and 13 days.
He was the son of Leonard E. and Della Ruth (Wintermote) McCale.
Ron spent his younger years in Drexel, Missouri graduating from Drexel High School in 1962. After graduation, Ron joined the United States Navy and proudly served his country in Vietnam from 1963 until April of 1967.
After his honorable discharge from the Navy, Ron put his Navy training as a HVAC engineer to use in his civilian life. First working for Bendix, then Western Electric. After being laid off from Western Electric, he went to work as a union roofer until Kansas City Life Insurance Company offered him a position as a HVAC engineer. While at Kansas City Life, he took many hours of continuing education in the HVAC field so he could keep up to date on all the advances in his profession. Ron retired from Kansas City Life Insurance Company in 2005.
On December 30, 1971, Ron was united in marriage with Linda Alley in Belton, Missouri. After their marriage the lived in the Tarsney Lakes and Baldwin Park, Missouri areas before settling in Pleasant Hill, Missouri to make their home. Linda McCale passed away on December 28, 2008 and Ron continued to live in Pleasant Hill.
In 2009, Ron met his life-partner, Bernadette Dryer, and moved to Holden, Missouri where he was still residing at the time of his death.
Ron was a natural born care-giver, always helping and caring for anyone in need. He enjoyed hunting, fishing and story-telling. Ron completed a life-long dream when he built his "cabin at the lake" in Warsaw, Missouri with the help of his brothers, son and grandson.
Above all else, Ron loved his family. He was always there if any of them needed him and he instilled in each and everyone of them the importance of kindness, respect, love and family.
In addition to his wife Linda McCale, Ron was preceded in death by his parents, Leonard and Della McCale and an infant daughter, Daphne McCale.
He is survived by his life partner, Bernadette Dryer of Holden, Missouri; one son, Randall L. McCale of Holden, Missouri; two daughters, Rhonda  (McCale) Dunham of Independence, Missouri and Michelle (McCale) Jones and husband John of Adrian, Missouri; five brothers, Jerry McCale and wife Pauline of Blue Springs, Missouri, Dean McCale of Pleasant Hill, Missouri, Larry McCale and wife Lynda also of Pleasant Hill, Missouri, David McCale and wife Linda of Belton, Missouri and Rick McCale of Grandview, Missouri; three sisters, Donna (McCale) Smith of Kansas City, Missouri, Sandra (McCale) Hauk of Overland Park, Kansas and Deborah (McCale) Morrison and husband Robert of Peculiar, Missouri; 9 grandchildren, 11 great grandchildren, other relatives and many friends.
Graveside funeral service will be held at 2:00 p.m.  Wednesday, March 17, 2021 at the Lone Jack Cemetery, Lone Jack, Missouri, with Rev. Tim Casteel officiating. Full military honors will be conducted by the United States Navy and V.F.W. Post # 3118 Honor Guard of Pleasant Hill, Missouri.