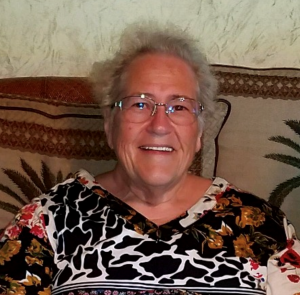 Roberta Lorraine (Taylor) Ponder was born November 28, 1942 in Grandview, Missouri and departed this life on February 15, 2021 at Village Hospice Care Center in Lee's Summit, Missouri, surrounded by the love of her family, at the age of 78 years, 2 months and 18 days.
She was the daughter of Frank Hastings and Dorothy Lorraine (McMillan) Taylor.
Roberta spent her younger years in Grandview, Missouri on the Sunrise Dairy Farm where her father was employed. In 1957, Roberta's father took a position with Pleasant Hill Central CO-OP, Pleasant Hill, Missouri and the Taylor family moved to Pleasant Hill to make their home.
On June 6, 1960, Roberta was united in marriage with Virgil J. Ponder and they made their home in Pleasant Hill. In addition to being a full-time homemaker, Roberta had worked at the Pleasant Hill Garment Factory. Later in life she worked as a private duty care giver until her retirement.
Roberta enjoyed sewing, planting flowers, and watching the birds that surrounded her home. But what Roberta loved the most was her family, being mother and grandmother meant everything to her.
Roberta was a faithful member of the Grace Family Fellowship Church in Pleasant Hill, Missouri. She not only liked to read her Bible, but she diligently studied every page and every word, making notes on passages for future reference.
Roberta was preceded in death by her husband, Virgil J. Ponder on June 15, 2016 and her parents, Frank and Dorothy Taylor.
She is survived by four sons; James Lee Ponder and wife Debbie of Lone Jack, Missouri, Roy William Ponder and wife Terresa of Sumterville, Florida, Bruce Allen Ponder and wife Jamie, and Ronald Leve Ponder all of Pleasant Hill, Missouri; one daughter, Rebecca "Becky" Mullican and husband Denny of Kingsville, Missouri; One sister, Frankie Taylor of Baraboo, Wisconsin; Six grandchildren, Homer Boston of Kansas City, Missouri, Cody Ponder and wife Meagen of Navarre, Florida, Alex Wood and wife Alyssa of Lynn Haven, Florida, Hannah Ponder of Pleasant Hill, Missouri,and Kendal and Lukas Ponder both of Pleasant Hill, Missouri; six great-grandchildren, David, Joseph and Grace Boston of Oak Grove, Missouri, Zoey and Skylar Ponder of Navarre, Florida, and Emory Wood of Lynn Haven, Florida; many nieces, nephews, other relatives and many friends.
The family of Roberta Lorraine (Taylor) Ponder will receive friends on Friday, February 19, 2021 from 1:00 p.m. until service time at 2:00 p.m. at the Wallace Funeral Home in Pleasant Hill, Missouri. Funeral Service will immediately follow at 2:00 p.m. with Dr. Roger Smith officiating. Casket Bearers are Jim Ponder, Roy Ponder, Bruce Ponder, Ron Ponder, John Ponder and Denny Mullican. Burial will be in the Pleasant Hill Cemetery. The family suggests contributions "In Memory of Robert Ponder", to the American Heart Association.